The 18 Best Trendy White Sneakers for Women in 2023
The ultimate street style staple.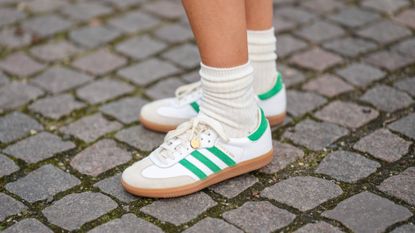 (Image credit: Edward Berthelot/Getty Images)
Very rarely am I caught not wearing a pair of white sneakers. Yes, I have plenty of boots and flats in my collection, but sneakers will always be my go-to if I'm in a rush to get out the door. And while new and trendy sneakers will always have a piece of my heart, the real superheroes in my collection are my trusty white sneakers. I have several that I wear on a near-constant rotation, and I obsess over finding a new pair once one of them bites the dust. With nearly two decades of expert sneaker shopping under my belt, I've rounded up a few of the coolest and best white sneakers for you to get your hands on in 2023.
What to Look For in White Sneakers
Start at the beginning: What are you looking for in a white sneaker?
If it's a canvas, retro-inspired pick that you're after, consider brands like Superga or Converse.
If you're on the hunt for the best white athletic sneaker, brands like Nike or Adidas might be a better fit.
If you're on the hunt for the best designer sneakers that happen to come in a shade of white, consider brands like Golden Goose or Chloé.
Finally, if you just need to find the best slip-on sneakers that you can get in and out of with ease, iconic brands like Vans have you (er, your feet) covered.
With that in mind, consider which styles are trending or popular right now. While chunky sneakers were once the go-to's among the fashion set, a slimmer silhouette has become prominent for 2023. "There's certainly a movement towards more nostalgic styles in the sneaker market as a whole and it-items are being deemed by celebrities like Bella Hadid and Hailey Bieber," says Kendall Becker, the fashion and beauty trends editor at Trendalytics, to that effect. "The Adidas Samba and Gazelle are a great example of this as they're currently up 484% and 250% in average weekly searches to last year," she says.
Another popular style is that of the New Balance 550, which has a slimmer silhouette but a thicker, rubber sole. The 550, in particular, is a great option for those looking for the look of a more dramatic sneaker without the bells and whistles—bright colors, 3D elements, and reflective paneling—seen on other chunkier styles over the year. Think of the New Balance 550, a personal favorite of experts like stylist Lizzy Rosenberg for its versatility and accessible price point as the middle ground between traditional and modern sneaker styles.
"They can be styled with an explicitly sporty vibe—scrunched white tube socks, bike shorts, and a sports bra— or with an ironically intended twist in mind, [with an] oversized low-rise slacks and a basic tank," she says.
Here's to securing the most versatile shoe in your collection, bar none. (And before they arrive, make sure you know how to clean your white sneakers!)
White Sneaker Deals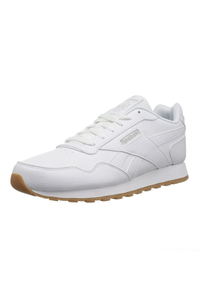 Reebok Classic Harman Sneakers, $65 $50 at Amazon
One Amazon reviewer called these "the perfect white shoe," but noted that they run large. Shop them now for less in select sizes.
The Best White Sneakers
Best Overall White Sneakers
Sam Edelman Ethyl Low Top Sneaker
It might sound like a given that a pair of white sneakers be, well, all white, but this pair from Sam Edelman is true to its title: There is no hint of any other color, right down to the detailing. A few other things to love? They're available in half-sizes, are priced at under $100, and run true-to-size. Reviewers say they're comfortable for all-day wear, require no breaking-in, and can be dressed up or down depending on the situation.
Customer Review: "I have been researching all leather white sneakers for months. I had a vision in my head and these fit that vision perfectly! I have had them for a month or so and I wear them every chance I get. I wear them with everything. They are perfect for spring. I wear them with or without socks. They do not rub at all and never did from day one. They were a bit stiff when I first put them on, but they are very soft and broken in right now. I tied the laces underneath and wear them as slip-ons. I have actually machine-washed them too (with blankets). They washed up so nice. There are inserts inside that I removed after washing to help them dry out. The inserts are very squishy and comfortable as well. I love these sneakers. I really really do." — Nordstrom
Best Sporty White Sneakers
Reebok Classic Harman Sneakers
A-List celebrities and fashion insiders like Ariana Grande and Gigi Hadid live in their white Reebok sneakers. This affordable pair has close to 6,000 five-star ratings on Amazon, which means it's totally worth testing out without a major investment. They come in two different white iterations and are made with an EVA midsole for comfort points. You can wear them to the gym or just when you're running errands, thanks to the supportive and lightweight design.
Customer Review: "I'm not a fan of ordering shoes online but these did not disappoint. They are true to size and have a nice almost memory foam sole which was a nice surprise. My food is a tad wide so they did make my toes hurt a bit the first couple times I wore them but now they've been broken in and feel fine. You can wear them with just about anything! If you're on the fence, get them!" — Amazon
Best Classic Adidas White Sneakers
Adidas Originals Women's Superstar Legacy Sneaker
"As a kid with constantly growing feet, my dad would take me to get a new pair of Adidas Superstars every year. While I may not have had much say in my shoe choices back then, there's a reason why we went with this style year after year: they're perennially stylish, wholly comfortable, and as versatile as it gets. I still rock Superstars to this day." — Lucia Tonelli, Social Media Editor
Customer Review: "The shoes look very elegant both for street wear and something more formal, the only thing that is too big so I recommend buying a size less." — Adidas
Chloé Nama Mixed Media Platform Sneakers
These woven all-white Nama sneakers from Chloé are everywhere right now. When Marie Claire's Style Director, Sara Holzman, first reviewed them way back in 2021, she dubbed them a "step ahead." Ever since then, they've been a mainstay on the feet of A-listers like Katie Holmes. Available in tons of colors including this all-white version, is made using 40 percent recycled materials. The webbing design is made from 100 percent recycled nylon, 100 percent recycled polyester and 100 percent recycled cotton.
Best Vegan White Sneakers
Veja V-10 Low-Top Sneakers
These unisex and sustainable sneakers from Veja come in this white-and-tan color combination that adds just a bit of color without having to commit to a bright hue. These sneakers tend to have a bit of a breaking-in period, but are supremely comfortable therafter. If you are looking for a bolder color combination, they're available to shop in other options, like white with black accents and white with a baby blue detail across the side. Oh—Both Kate Middleton and Meghan Markle both love wearing sneakers from the brand.
Best Party-Ready White Sneakers
Golden Goose Ball Star Low Top Sneaker
These glittery white sneakers from Golden Goose are great if you want a pair that are just a little bit dressy but can still be worn every single day. Slightly '80s-inspired, this pair of sneakers require a little bit of breaking in from my personal experience, but are supremely comfortable once they get a bit worn-in.Shop them in European sizes 35 (a typical size 5) through a 42 (a typical size 12) now. Plus, the glitter doesn't fade as you wear them.
Customer Review: "These sneakers are incredible. Comfortable right out of the box. A very flattering look for every outfit. Only whole sizes so size up if you are in between. You won't regret this purchase." — Nordstrom
Best Classic Nike White Sneakers
What's there to say about this pair of sneakers from Nike that hasn't already been said? They're priced at just over $100, are available in women's size 5 through 12, and are available in other colors besides white, but the white ones are and always have been one of the best-selling sneakers on the market. They wear beautifully over time and are supremely comfortable without needing any breaking-in. This is the only pair of sneakers that I've personally purchased over and over again without fail—they're simply one of the best on the market.
Customer Review: "I have always been a Nike Air Force 1 fan! They're one of my favorite sneakers. I believe they run a little big so I always go 1/2 a size down. Overall very comfortable and cute." — Nordstrom
Best White Sneakers With A Pop of Color
Thousand Fell's vegan sneaker line is made from recycled plastic, natural rubber, and food waste, like coconut husk and sugarcane. Once you purchase a pair and wear them through, you're actually able to recycle them directly back to the brand and earn $20 towards a fresh pair. Available to shop in 18 bright colors including this sunny yellow hue, a punchy red, and a very on-trend lavender shade, these sneakers are also odor-resistant and stain-resistant, making them a great option for everyday wear.
Customer Review: "Fit is perfect. Shoes still bright white after weeks of wear. Love the very subtle pop of color and lack of obvious obnoxious branding." — Thousand Fell
Best Low-Top Canvas White Sneakers
Superga 2750 Cotu Classic Sneakers
"When I was in high school, my friends and I literally used to collect pairs of Superga sneakers. While my other friends always loved the brighter or patterned iterations, I always went back to this white pair—and they're still in my collection now, albeit a more modern pair. I've worn this very pair down until the rubber sole has more than a few holes in them over and over, and they still fit into my wardrobe as it has changed over the years." — Julia Marzovilla, E-Commerce Editor
Customer Review: "These shoes are classic. Great for every season of the year because they go with any outfit. A staple item for every girls wardrobe" — Nordstrom
Best High-Top Leather White Sneaker
Nike Blazer Mid '77 Vintage
"I personally own this pair—they're the only high-tops in my collection these days—and I wear them all the time because of how versatile they are. They look great with either long dresses, trousers, or a pair of cropped jeans. I keep mine slightly unlaced at the top to make for easier putting on and taking off, but they're otherwise a perfect high-top sneaker. I've found that the leather softens as you wear them but that they can be a little tough to get on at first. However, they require little to no other breaking in." — Julia Marzovilla, E-Commerce Editor
Customer Review: "These shoes were exactly what I was looking for. They look great with leggings and have a retro feel. I don't mind the exposed foam on the tongue but I knew it had that when I bought them. They are hard to get on but I think that will get better once broken in. I normally wear a 9.5 in Nike and that's what I got, no issues with sizing." — Nordstrom
Cariuma OCA Low Off-White Canvas
These under-$80 white canvas sneakers from Cariuma are best-sellers for a reason. With over 6,500 glowing five-star reviews, they're the epitome of easy, affordable, summer footwear. They come in women's sizes 5 through 13 (including half sizes!) and in many, many other colors besides this classic all-white version. You can also shop them in four different fabrications: suede, leather, canvas, and a "mixed" version. Reviewers say they're supremely comfortable even after hours of wear and that they run true-to-size.
Customer Sizing: "I love these shoes! They are comfortable and fit perfectly. I have high arches and they support my arch. I wear a size 5.5 and its always hard to find my size. Thank you Cariuma! I will definitely be a repeat customer." — Cariuma