Editors handpick every product that we feature. We may earn commission from the links on this page.
20 Date-Night Outfits Inspired by Celebs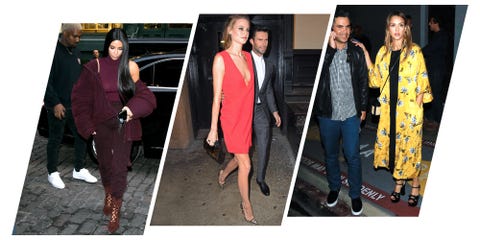 Aside from the shutterbugs and Michelin-starred menus, celebrity date nights are just like ours in that we all just want to look and feel good when out with our SOs. Of course, this means different things to different women—some opting for a tried-and-true T-shirt and jeans ensemble, while others are keen on vamping it up in a LBD. These 20 stars show us all how it's done, from every point on the spectrum.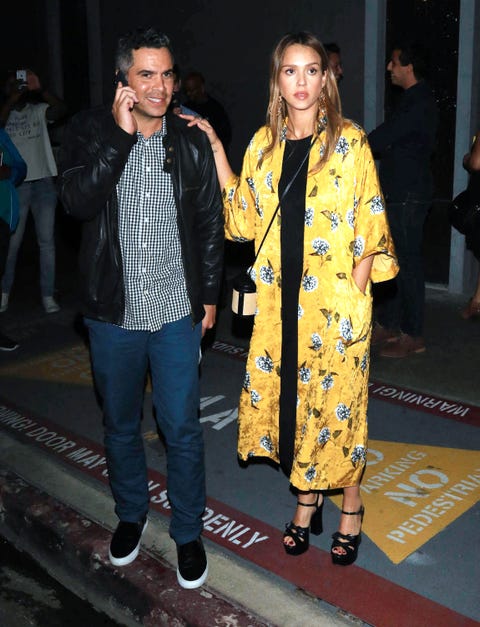 Jessica Alba
"Dude, where's my car?" but with a full-length kimono, a much cleverer alternative to, say, a blazer. And the bedroom associations don't hurt either, eh?
Shop similar: Anthropologie, $138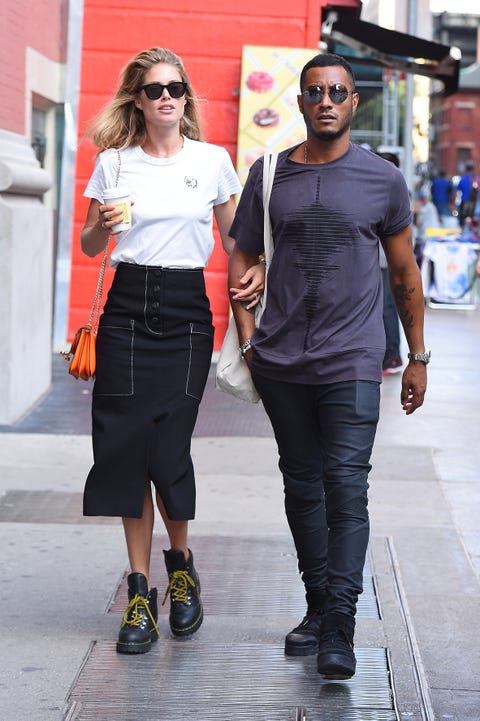 Doutzen Kroes
You're not about to pour yourself into a trumpet skirt for just anybody, so make it count—with a combat boot, which is far cooler than a teeter-y heel.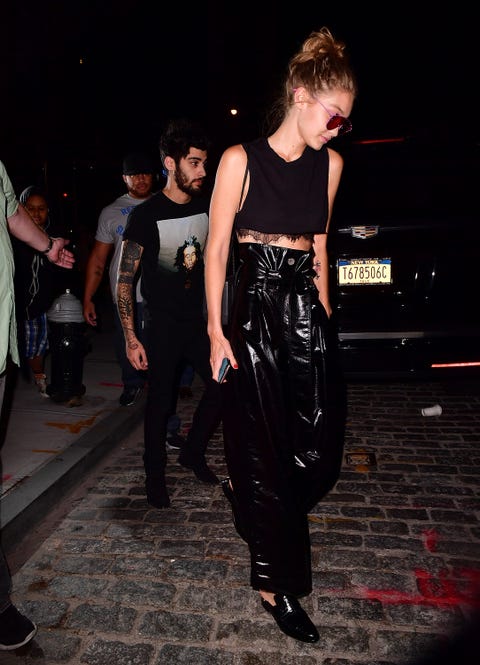 Gigi Hadid
Not every partner will "get" paperbag-waist vinyl trousers, but that's not really your concern, is it? (Zayn gets it.) But you'll be seen, mostly, north of your waistband, so pair them with something a bit less cerebral, like a lace-trimmed crop top.
Shop similar: Topshop, $75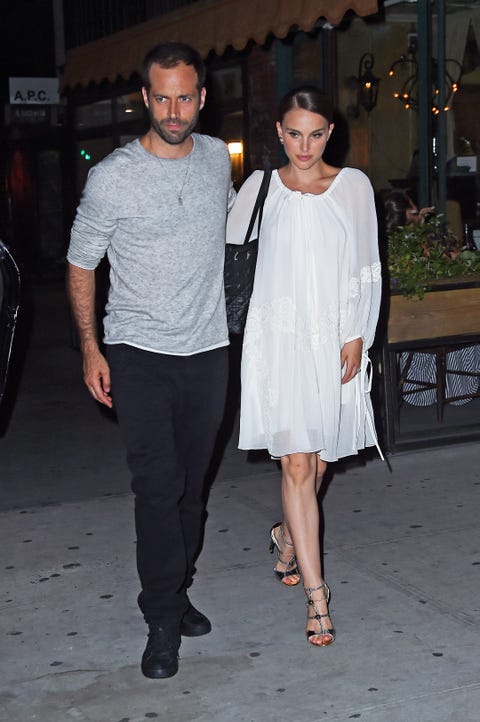 Natalie Portman
Outfit: floaty dress, heels, pretty. Beauty: Deep side part, soft makeup. Altogether, a classically feminine package you know will always work, which you do want sometimes.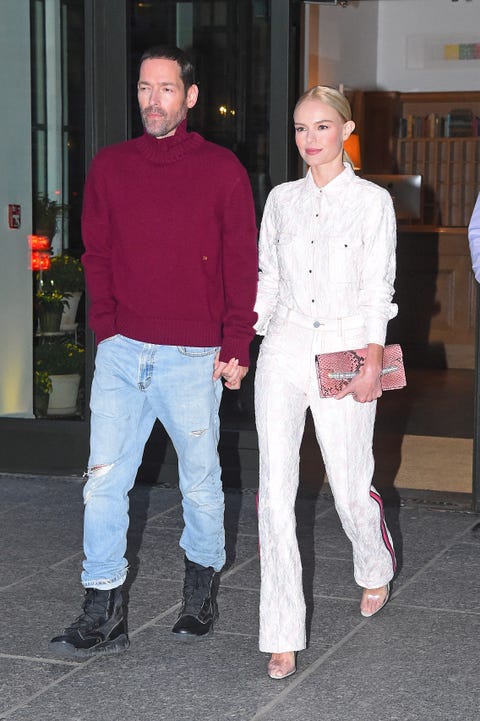 Kate Bosworth
Sticking with the all-white theme, we've got a less traditional take with head-to-toe textured white in relaxed silhouettes. The easiest way to look and feel long and lean.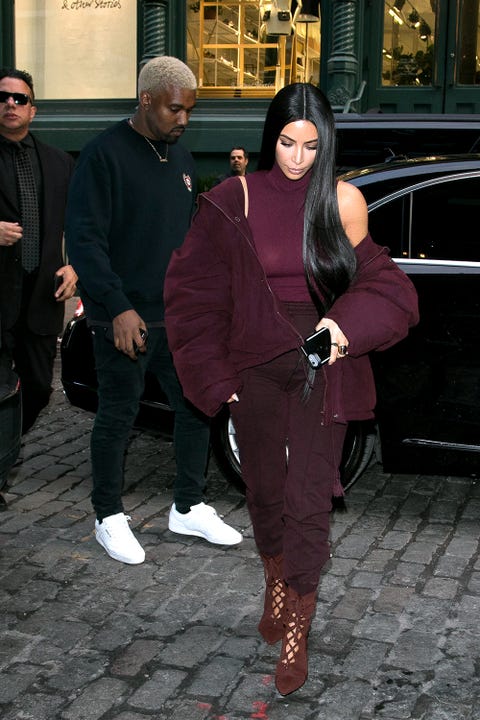 Kim Kardashian
Another vote for monochrome.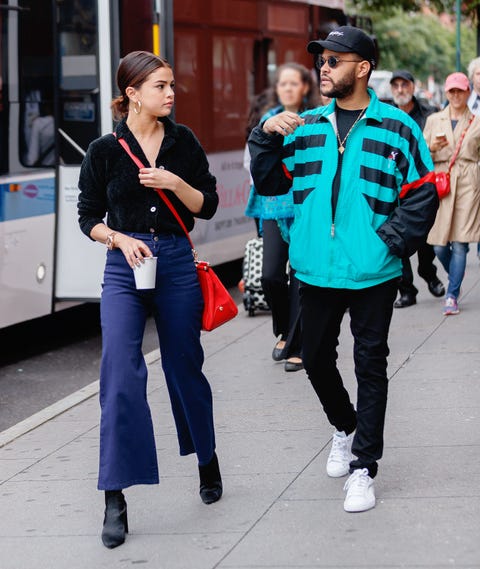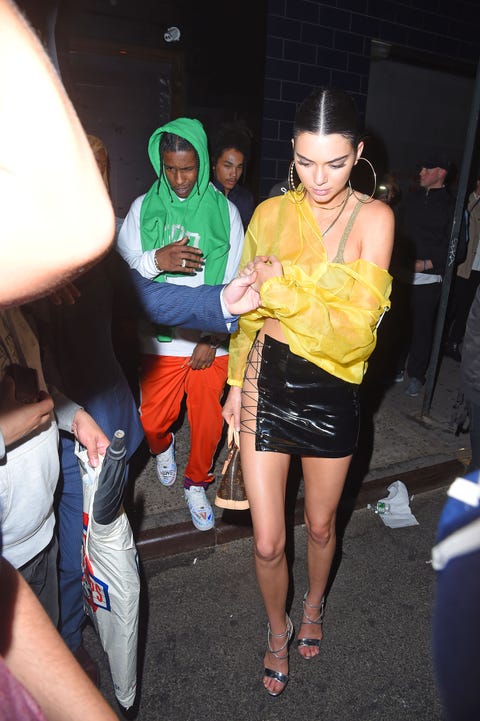 Kendall Jenner
And on the opposite end of the spectrum, we've got a bra top under a sheer shirt, and 75 percent of a skirt. No clearer way to say "homeboy's gonna, like, get it."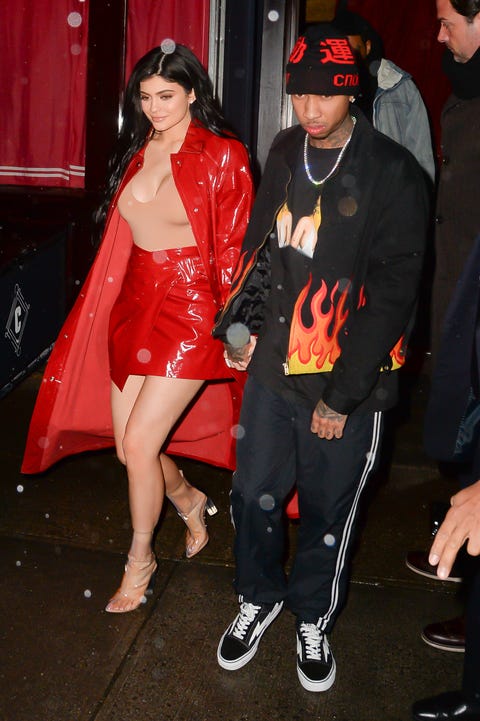 Kylie Jenner
Similarly, a bodysuit is inconvenient to use the bathroom in, but worth it for the streamlined shape/balancing a fire-engine red coat.
Kookaï, $70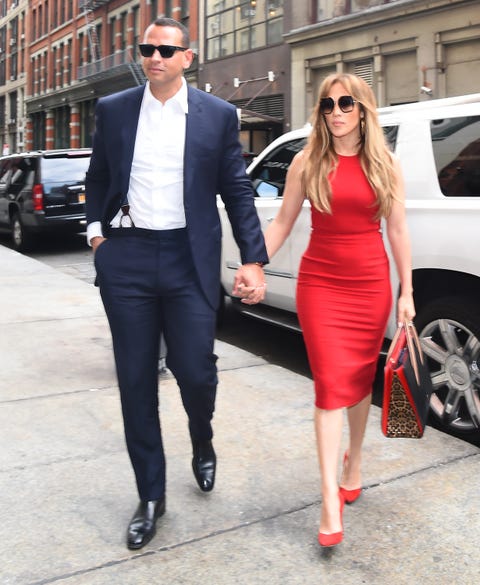 Jennifer Lopez
Make way. Power couple coming through.
Shop similar: Solace London, $565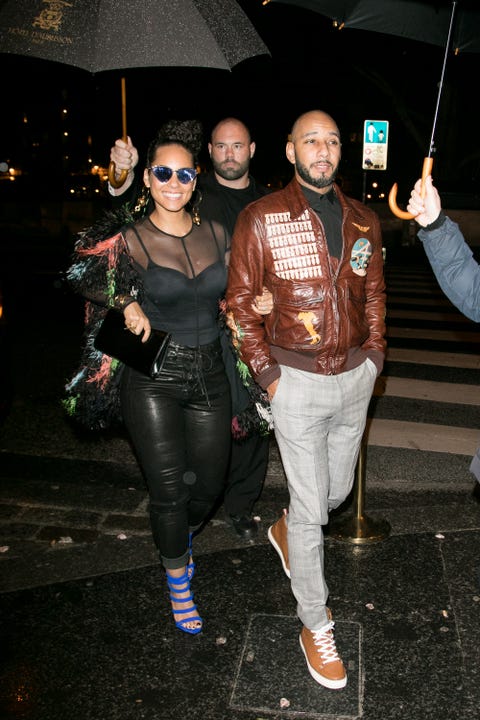 Alicia Keys
Ditto, but like "Music Industry Power Couple" Ken and Barbie.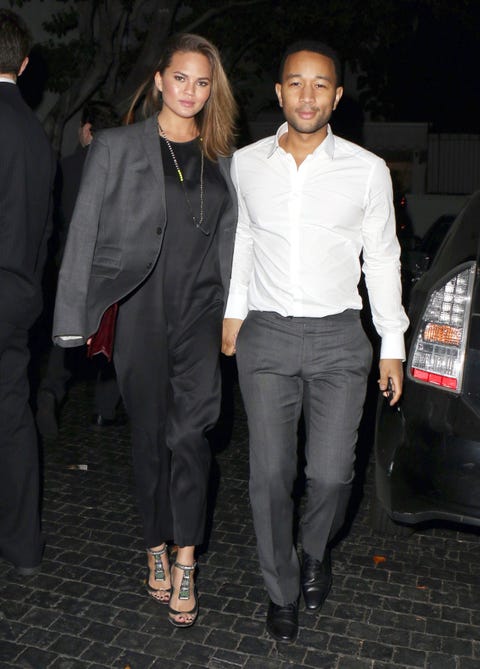 Chrissy Teigen
The beauty of a jumpsuit is that it's as easy to wear as it is stylish. Teigen adds even more flair by stealing John Legend's suit jacket and wearing it on her shoulders. (Always a good way to add a little something/keep warm, in a pinch.)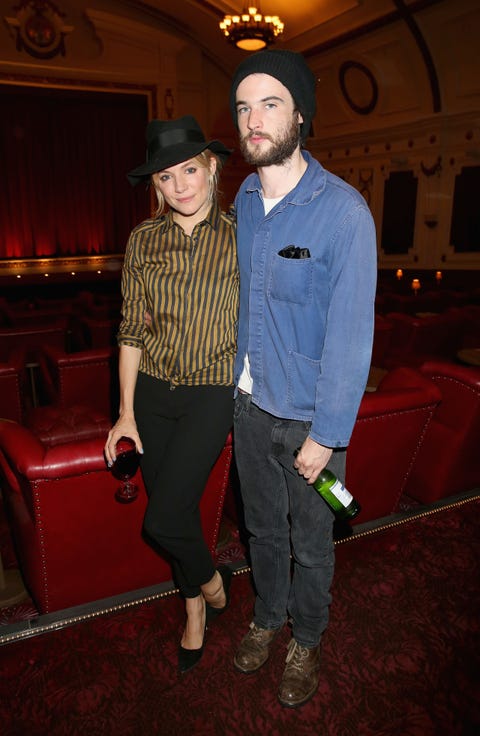 Sienna Miller
Miller proves that a black fedora can upgrade a simpler outfit, like her striped button-up and black trousers, in one fell swoop. Invest in one to add a cool touch to your look, whether you're grabbing drinks at lounge or just heading to the movies.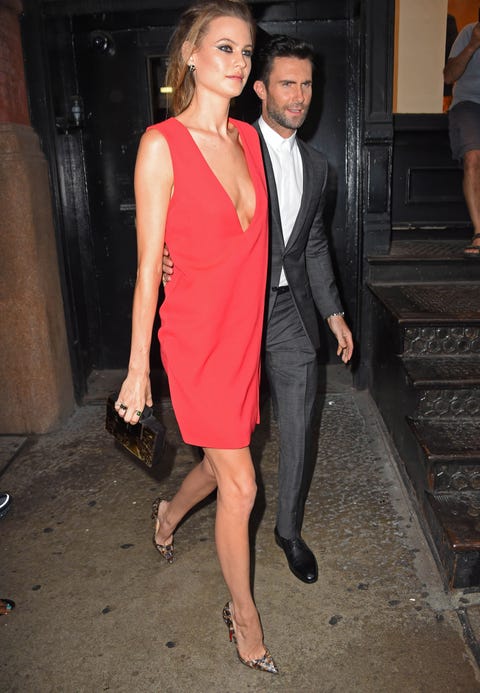 Behati Prinsloo
Prinsloo's plunging red shift dress essentially characterizes "hot date." With a look like this, be sure not to overdo it with the accessories. You can't go wrong with pendant earrings and point-toe pumps.
Shop similar: Urban Outfitters, $69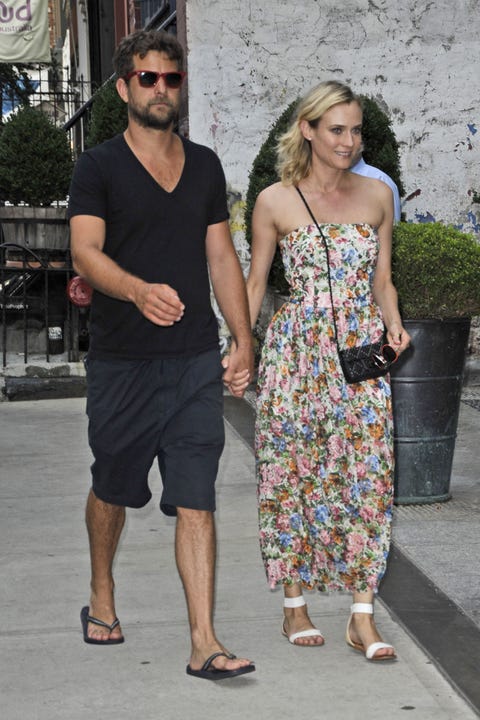 Diane Kruger
For a casual summer evening date, keep it breezy in a tailored maxi dress, in a vivid color or soft floral print. (You also can't deny the cute-meets-practical factor of a leather cross-body bag.)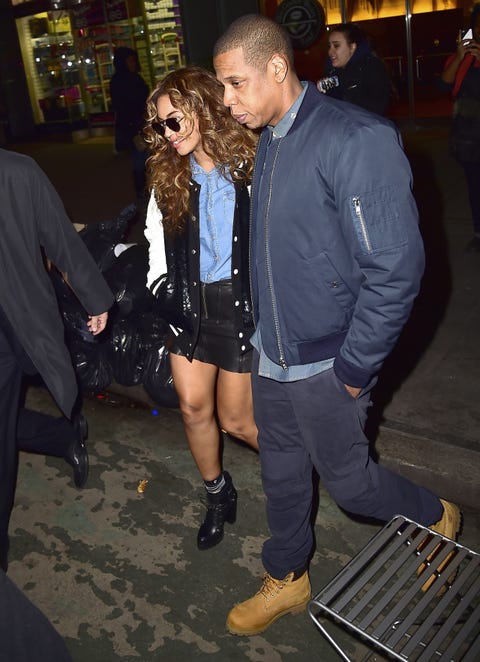 Beyoncé
In summer, it's always key to layer, as you never know when you'll be hit with some subzero air conditioning. (Ahem, movie theaters.) If you love the athleisure trend, layer a letterman jacket over micro-mini bottoms, like high-waisted shorts or a leather skirt.
Shop similar: Coach, $895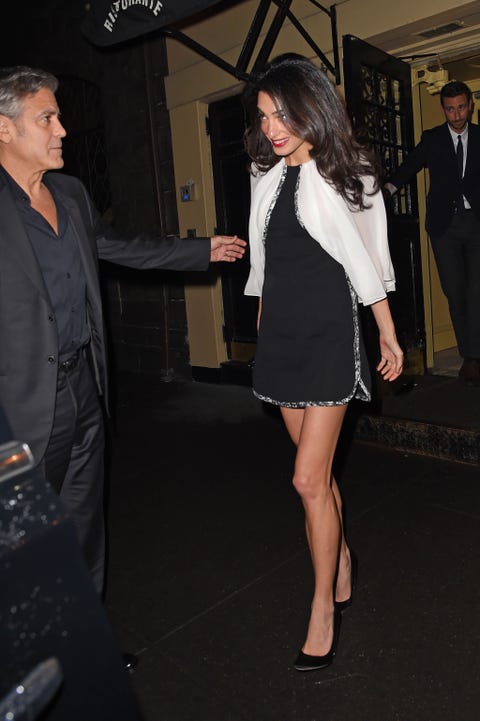 Amal Clooney
Clooney knows the power of a minidress for showing off her stems. But so as not to overdo it, she wears a lightweight shawl jacket that's just cool enough for a hot summer night.
Kate Bosworth
When in doubt, you can't go wrong with a summery tank and skirt combination. Bosworth nails it with her textured cream top and a form-fitting, mixed-print skirt and strappy sandal heels.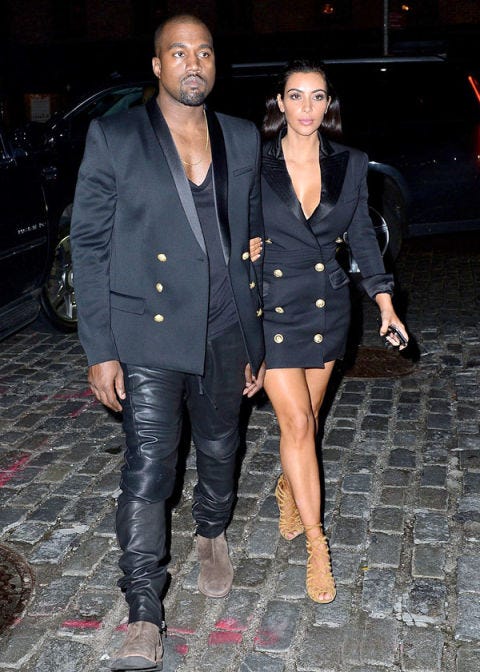 Kim Kardashian
Say what you will, but Kim knows how to turn up the heat on a date while keeping things decidedly chic. Here, she dons a tailored blazer dress, which is an unexpected date choice in the *best way.*
Shop similar: ASOS, $45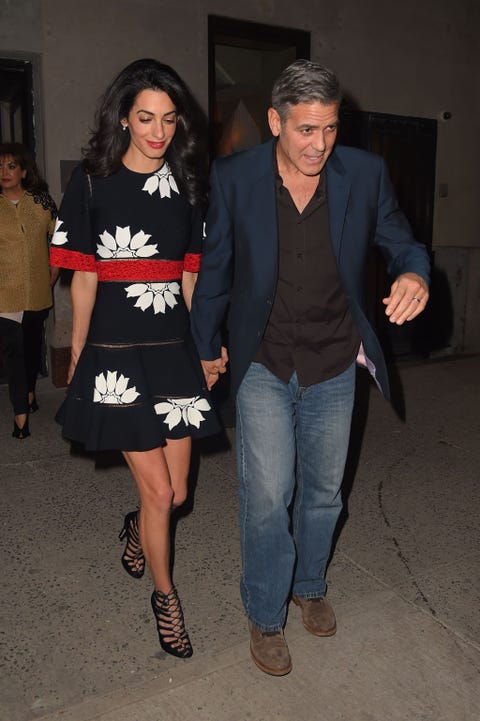 Amal Clooney
When you have nothing to wear, simply make like Amal and slip into a bloom-printed, flared frock, and sexy lace-up sandals. Done.
This content is created and maintained by a third party, and imported onto this page to help users provide their email addresses. You may be able to find more information about this and similar content at piano.io