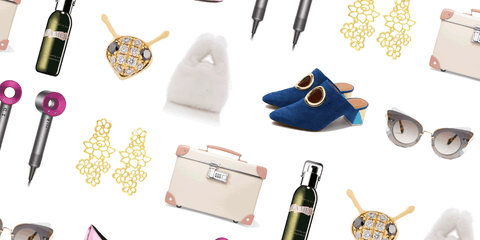 According to the IRS, the average tax refund is $3,120. That means, if you're in the mood to get a little spendy, you could buy one big thing. Or you could buy multiple, smaller things, because for some of us, quantity is quality. To help you decide how to waste intelligently disperse your assets, here are 10 not-frivolous, entirely helpful suggestions.
2
A (Much) Better Beauty Routine
Yeah, that's two-thirds of your budget gone, but you deserve floral filigree earrings after doing math and inputting this number in that column.
$1,870, edenpresley.com.
The vanity: The ultimate travel accessory that would make even George Clooney's frequent-flier czar green with envy.
$1,205, net-a-porter.com.
You know you've always wanted the full size of that serum that makes your face all tight and radioactive-glowy.
$320, violetgrey.com.
There's no such thing as too many pairs of statement shoes.
$515, needsupply.com.
8
An Expensive-but-Worth-It Designer Tee
You'd be trippin' if you thought we'd buy this normally, but free money! (Even though it's not, but do whatever you have to to make yourself feel better.)
$495, net-a-porter.com.
A diamond earring shaped like an ant head. I don't see why not.
$1,359, farfetch.com.
10
A Totally Over-the-Top Bag You Don't Need
But want. You could carry, like, a Tic Tac in this furry pouf of a bag, but that's okay—you have pockets.
$495, fivestory.com.