Mother Knows Best: 10 Killer Spring Outfits from the Breakout Denim Brand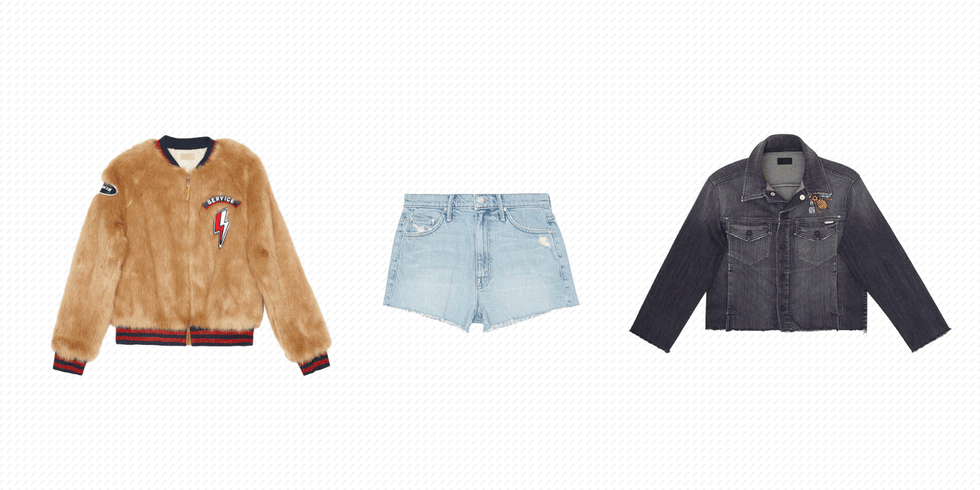 As denim designers begin branching out with more than just blues, why not make your favorite label a one-stop-shop for all your closet needs? Check out these winning spring outfit picks from the brand our editors are currently obsessing over: Mother.
Haute Fuzz
When others zig with a basic leather jacket, zag with this plush, patch-adorned bomber.
Letterman Patch Fur jacket, $365; Insider Crop Step Fray jeans, $228; both at motherdenim.com.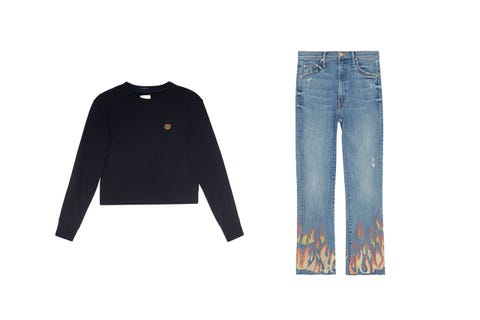 Flame Thrower
This look is literally FIRE (and gives a whole new meaning to the term "hot pants").
Sweatshirt, $138; Insider Crop Fray jeans in Liar Liar, $268; both at motherdenim.com.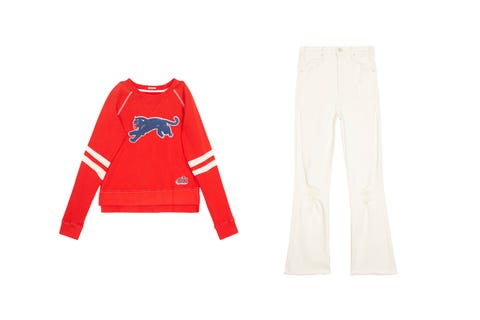 Varsity Clues
Match ivory kick-flare crops to the bands on this retro sweatshirt for a foolproof spring uniform.
Hustler Ankle Fray jeans, $208; Super Square sweatshirt, $178; both at motherdenim.com.
Street Cred
Dominate every group Instagram selfie in this impossibly cool matching combo.
Pocket Bruiser jacket, $325; Vagabond Cuff shorts, $185; both at motherdenim.com.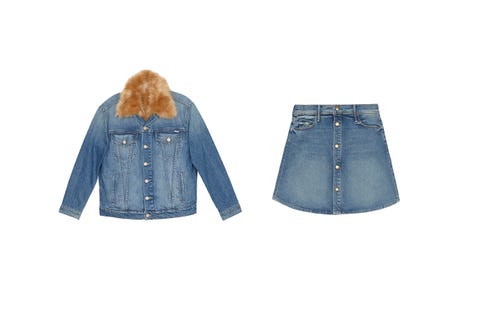 Blue Jean Baby
How the modern-day Penny Lane does denim.
Furry Drifter jacket, $485; Snap Down Mini Flare skirt, $198; both at motherdenim.com.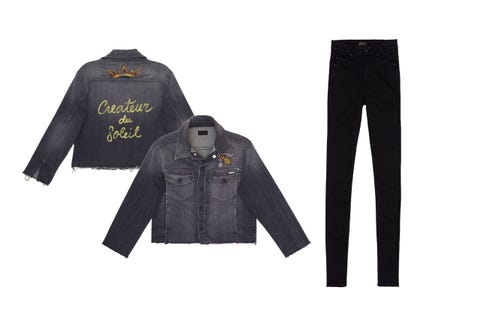 Dark Arts
Let this embellished jacket do the talking by pairing it with simple (and super-flattering) black skinny jeans.
Straight Fray jacket, price upon request; High-Waisted Looker jeans, $196; both at motherdenim.com.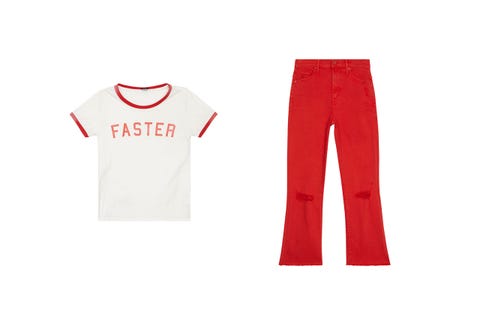 Good Sport
Whoever said red jeans were dead never saw this too-good-not-to-match-them-with tee.
Itty Bitty Goodie Goodie Ringer tee, $105; Insider Crop Fray Firecracker jeans, $208; both at motherdenim.com.
Precious Cargo
The perfect military jacket, with a touch of embellishment to dress it up.
The Top Brass Fray jacket, $348; Maverick Understudy jeans, $248; both at motherdenim.com.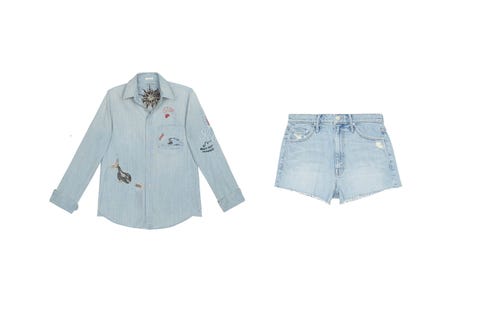 Lighten Up
With whimsical stitching on the front and back, this button-down feels like a super-cool vintage shop score.
Foxy Boxy top, $345; Easy Does It cut-off shorts, $185; both at motherdenim.com.
License to Lounge
Netflix and chilling never looked so chic.
Boxy Goodie Goodie tee, $105; Slim Gym pants, $188; both at motherdenim.com.
This content is created and maintained by a third party, and imported onto this page to help users provide their email addresses. You may be able to find more information about this and similar content at piano.io