Gigi Hadid Wore the Shiniest Pants in Milan
No wonder she's wearing shades.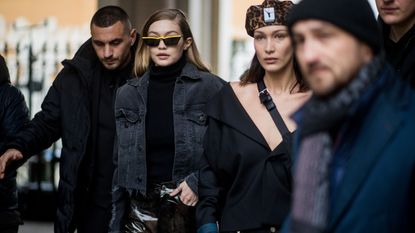 (Image credit: Getty Images)
1/140
February 23, 2018
The model wore a denim jacket and shiny pants while out in Milan.
2/140
December 15, 2017
The model wore a yellow coat and jeans out in New York City.
3/140
November 15, 2017
The model wore all white in NYC.
4/140
October 9, 2017
The model stepped out in a light blue, see-through corset in NYC.
5/140
September 29, 2017
Gigi wore head-to-toe grey in Paris.
6/140
July 19, 2017
When it comes to matching, Gigi does not mess around—even her lips fit with the theme.
7/140
July 18, 2017
These boots are made for walking...
8/140
July 17, 2017
The supermodel wore pajamas again, which we're all in favor for. (Please let this become a trend, please let this become a trend.)
9/140
July 6, 2017
We have yet to find out whether there's a practical element involved here or if Gigi is simply starting a new trend. Either way, she pulls it off. *Looks for more items with buckles*
10/140
June 23, 2017
Basically wearing pajamas while out and about in NYC.
11/140
June 12, 2017
Pretty in (lots of) pink while strolling in NYC on a boiling-hot summer day. Is it us, or does she look completely unfazed?
12/140
June 2, 2017
In a bright yellow crop top, with a matching yellow sweater tied around her shoulders, matching lace-up pants and nude mules out in New York City.
13/140
March 30, 2017
Out and about in New York, she continues her undercover matching streak with an orange hoodie, nails, and tinted sunglasses. Gucci slides and a weekender complete the look.
14/140
March 7, 2017
She pairs plaid Miaouxx pants with a leather moto jacket, sheer shirt, and flat boots.
15/140
March 3, 2017
Gigi wears a stylish, off-the-shoulder grey dress and thigh-high boots while out with Zayn Malik in Paris.
16/140
March 2, 2017
Gigi is looking every bit the modern-day Penny Lane in Paris with this denim-on-denim ensemble of light wash cutoff ankle jeans and distressed oversized jacket, paired with a nude cropped turtleneck and booties to match.
17/140
February 24, 2017
Gigi struts down the sidewalks of Milan during Fashion Week wearing a cherry red suit with an off-white turtleneck and beige ankle boots. Plus seriously cool sunnies, of course.
18/140
February 18, 2017
Ahead of her LFW duties, Gigi made an appearance at a Tommy Hilfiger store in London to promote the latest season of her collab with the designer. She showed up in her best sporty-chic wares, including an oversized Tommy sweatshirt, silver metallic puffer coat, black leather pants and white Dr. Martens boots.
19/140
February 12, 2017
Gigi gave sporty a chic update in red and white mesh-paneled pants, a white coat, black turtleneck, black ankle boots and oversized Karen Walker shades.
20/140
February 12, 2017
Out in NYC wearing a multicolor fur coat with black leather pants and velcro Dr. Martens boots.
21/140
February 11, 2017
In a burgundy bomber, Bassike white parka, black turtleneck, leather pants, maroon Doc Martens and red-tinted sunglasses while out in New York.
22/140
February 10, 2017
The model made her way out of the Jeremy Scott show at NYFW in a hot pink Jeremy Scott top with slouchy sweatpants, an oversized Ports1961 coat and nude mesh booties.
23/140
February 8, 2017
Hadid arrives at the Tommy Hilfiger x Gigi show in Venice Beach wearing a matching crop top and leggings combination with her abs on *full* display. She wore a cozy long sweater to complete the off-duty-model look.
24/140
February 3, 2017
When your sunglasses make the outfit. Take cues from Gigi Hadid in the art of accessorizing. The model stepped out in a casual look with a furry gray coat, distressed jeans, a cashmere crew neck sweater by Grana, and sneakers, taking the look to glam territory with her tinted cat-eye shades.
25/140
February 1, 2017
Another day, another A+ street style ensemble for Gigi Hadid. The model wore a printed blouse with a cropped black jacket and a pair of leather pants in New York. She topped it off with a round sunglasses, a small black bag, and a pair of pale pink sneakers.
26/140
27/140
January 27, 2017
Gigi Hadid knows that a really chic coat can transform even the most casual outfit, which she proved on Friday when she wore this sleek, olive green topper by Sandro over a simple white tee and jeans. The model also wore a pair of Parker sunglasses by Sunday Somewhere.
28/140
29/140
January 23, 2017
Hadid stepped out in New York City in a statement pair of striped, wide-leg jeans. She paired the '70s-inspired pants with a denim jacket, simple t-shirt, and round sunglasses.
30/140
January 17, 2017
Paying homage to Lizzie McGuire and her ilk, Hadid went out in New York City wearing a hunter green fur coat, velvet trousers, and platform boots. Round sunglasses completed the look.
31/140
January 15, 2017
While out and about in New York City, Gigi made a pair of black leggings and a basic black puffy coat look effortlessly chic.
32/140
December 15, 2016
While out in Soho, Gigi *flawlessly* combined a pair of patterned leggings and a long, printed coat. Gigi added black booties, a statement necklace, and the best accessory of all: a smile.
33/140
December 14, 2016
Hadid showed us how to layer like a pro: wear a bomber jacket and tie another one around your waist. The model paired her jackets with black leggings, printed booties, and black sunglasses.
34/140
December 13, 2016
Only Gigi can make a pair of black sweats look this good! Hadid wore a *major* blue printed coat over sweats and sweatshirt for the post-gym look of our dreams.
35/140
December 9, 2016
Gigi wore an insanely long oversize coat while braving the New York cold. She added black leggings, a striped sweater, a pair of furry slides, and oversized sunglasses to complete her look.
36/140
December 8, 2016
Hadid stepped out in New York looking casual yet chic. She wore cuffed blue jeans, a black cropped sweater, and a long black coat. She topped her ensemble off with a pair of mirrored sunnies and baby blue booties.
37/140
December 7, 2016
Gigi is *owning* this athleisure ensemble by Reebok—complete with a sweater tied around her waist! She wore a cropped workout t-shirt with a blue and red hoodie, black leggings, and red sneakers.
38/140
November 2, 2016
Gigi is making the world her runway one fitting at a time. She arrived at her Victoria's Secret Fashion Show fitting wearing a black asymmetrical skirt with a black top and a pair of gray Gigi booties by Stuart Weitzman. Gigi topped it off with a perfectly wavy blow out.
39/140
November 1, 2016
Gigi wore a sweat suit and a white coat that is so long it's *literally* sweeping the streets. Please note the personalized GH on her sweats—did you expect anything less?!
40/140
October 31, 2016
Hadid was spotted in an all-black ensemble on Halloween, wearing a long, black coat and black booties. She added a pair of black sunglasses to complete her monochromatic look.
41/140
October 26, 2016
Gigi stepped out to celebrate the launch of the Gigi, the boot she designed for Stuart Weitzman. She wore a white shirtdress with a corset and black skinny jeans underneath. And, of course, a pair of her very own Gigi booties.
42/140
October 11, 2016
Gigi looked flawless as she arrived at the airport in Tokyo, Japan. She wore black leggings and a graphic t-shirt with an oversize coat on top.
43/140
July 26, 2016
In NYC, Hadid showed off her hard-earned six pack in a sand-hued cropped sweatshirt, high-waisted black leggings, and white trainers.
44/140
July 14, 2016
Gigi wore a casual ensemble, blue jeans and a white t-shirt, while out in New York. The model added a pop of color with her red hot bag that matched her bold red lip.
45/140
July 14, 2016
Gigi and Zayn are back at it again looking happier than ever and equally in tune style-wise—AKA wearing matching bomber jackets and distressed denim.
46/140
July 13, 2016
Even when she's super casual, Hadid is still slaying the fashion game. Her secret? The bright orange patent leather backpack and pom pom accessory that elevate her white cotton shirt, gray leggings, and slip-on sneakers.
47/140
June 29, 2016
For what appears to be a photo shoot (but who knows considering it's perpetually-chic Gigi), she wears a white tank top and an asymmetrical polka dot skirt with two over-the-top accessories: Overized white sunglasses and diamond earrings.
48/140
June 16, 2016
Denim and leather is a model-off-duty standard, and Gigi Hadid has the look on lock. She was out in New York City wearing a worn-in denim shirt and edgy lace-up leather pants by Unravel.
49/140
June 16, 2016
Supermodels are loving the Canadian tuxedo look as of late, and Hadid is no exception. She rocked the denim-on-denim getup with a rock 'n' roll T-shirt and ruby-red velvet boots.
50/140
June 4, 2016
While accepting the Guys Choice Award for 'New Girlfriend,' the 21-year-old model showed some skin in a black mini dress with circular cutouts all over.
51/140
May 9, 2016
In a move that may or may not dethrone Kim Kardashian as the monochrome queen, Hadid donned an asymmetrical, figure-hugging Jonathan Simkhai dress and paired it with a matching coat and suede pumps.
52/140
March 20, 2016
Supporting her sister Bella at the Daily Front Row L.A. Fashion Awards, Hadid made quite the statement in a white corset layered underneath a sheer gown overlay with leaf and fringe embroidery.
53/140
February 27, 2016
Gigi Hadid continues Fashion Week Month in Milan, wearing a black mini dress with red, green, and blue sequins. Her famous legs are on display with strappy heels and her signature perfectly coiffed hair.
54/140
February 18, 2016
Proving that wearing all-white after Labor Day is indeed acceptable, Hadid stunned in a crop top, high-slit pencil skirt and matching pumps for Sports Illustrated's A Night at Sea VIP Boat Cruise event in Miami.
55/140
February 17, 2016
For Sports Illustrated's VIP BBQ in Miami, Hadid sparkled in a champagne-colored Herve Leger mini dress teamed with thigh-high suede boots.
56/140
February 16, 2016
At the launch of Sports Illustrated's 2016 Swimsuit edition, Hadid bared *nearly* all of her supermodel physique in a see-through black jumpsuit boasting intricate, laser-cut detail.
57/140
February 12, 2016
Earlier in the day, Hadid closed out Rihanna's Fenty x Puma show for New York Fashion Week—which required the model to rock a rather bold beauty look: white-frosted locks and black lips. Clearly a fan of her new Bad Gal RiRi makeover, a crop top and jeans-clad Hadid remained in post-runway hair and makeup for a Maybelline New York party. To which we say YAAASS.
58/140
January 26, 2016
Ultra-distressed jeans (yes as in the Abercrombie and Fitch styles you begged your mom to buy you in middle school) are back in a big way, thanks to none other than Gigi. The trendsetting supermodel hit Paris Haute Couture Fashion Week donning light-wash, cropped, and ripped-at-the-knee denim paired with a low-slung white top and matching coat to elevate the look.
59/140
January 21, 2016
If we're going to so much as consider wearing a skirt during winter, you best believe we're reaching for our trusty black tights. But leave it to a supermodel to find the ultimate hack...
While hitting the shows at Men's Fashion Week in Paris, Hadid braved the chilly temps, yet showed off her stems (sans tights!) with the clever combo of a super-long coat and a high-slit skirt.
60/140
January 16, 2015
Gigi loves black leggings. For further proof, just click through the next 94 slides. To change things up at the airport, she opted to go for a style with cheeky patches, a heart and star, around the knees, pairing the statement bottoms with a long-sleeved black top, leather boots, and a sumptuous camel coat.
61/140
December 23, 2015
Two sisters, two ends of the style spectrum. While BFFs can pull off a matchy-matchy look, Gigi and Bella are all about showing off their individuality, with the former going for crisp tennis whites while the latter errs on the side of grunge.
62/140
63/140
December 8, 2015
Yet another ode to Kim K's style, Hadid left her apartment in NYC in a nude-on-nude-on-nude ensemble comprised of a wool coat worn on the shoulders, slashed-legged jumpsuit (dress?), and patent leather pumps.
64/140
November 13, 2015
Sitting court-side at a New York Knicks game wearing a taupe trench coat, black leggings and sky-high stilettos.
65/140
November 13, 2015
Out in New York City in a lavender bomber jacket and Stuart Weitzman knee-high boots.
66/140
November 12, 2015
Out in New York City in a Kempner coat and Karen Walker sunglasses.
67/140
November 12, 2015
Out in New York City.
68/140
November 6, 2015
Hadid wears a Sweaty Betty bra and Adidas leggings paired with a long winter coat while out and about in New York.
69/140
October 30, 2015
Out in New York City.
70/140
October 2, 2015
En route to the Americans in Paris cocktail party in a yellow Victoria Beckham dress and nude pumps.
71/140
October 1, 2015
Out at the Balmain after party with Joe Jonas in Paris.
72/140
October 2, 2015
Out in Paris.
73/140
September 28, 2015
Out in Paris.
74/140
September 26, 2015
Stepping out in Paris for a date night with boyfriend, Joe Jonas, dressed in a Versace T-shirt dress and black ankle booties.
75/140
September 19, 2015
Sporting a simple athleisure look paired with a Rag & Bone handbag and Krewe du Optic sunglasses in New York City.
76/140
September 10, 2015
Attending the Daily Front Row's Third Annual Fashion Media Awards, dressed in Tommy Hilfiger.
77/140
August 21, 2015
Attending a Taylor Swift concert in Los Angeles.
78/140
August 20, 2015
Getting coffee with Joe Jonas in Los Angeles.
79/140
August 12, 2015
In a blue long-sleeved crop top, jeans, and heels out in Los Angeles.
80/140
August 8, 2015
After a date night with Joe Jonas in Los Angeles, sporting a Céline tee, distressed denim, and Nike sneakers.
81/140
82/140
August 4, 2015
At the launch of the Guess Spring 2015 Collection in Sydney.
83/140
August 4, 2015
At a Guess event in Sydney.
84/140
July 31, 2015
Shopping and getting froyo out in Los Angeles with Kendall Jenner.
85/140
July 20, 2015
At LAX airport with Joe Jonas.
86/140
July 13, 2015
Out in New York City in a belted white dress.
87/140
July 11, 2015
In a crop top, sleeveless coat and green cargo pants out in New York while on date with Joe Jonas.
88/140
June 21, 2015
At the 2015 MuchMusic Video Awards in Toronto.
89/140
90/140
June 3, 2015
At the Maybelline New York 100th Anniversary Party in Toronto.
91/140
June 1, 2015
At the CFDA Fashion Awards.
92/140
May 30, 2015
Out in New York City.
93/140
May 29, 2015
Out in New York City with Taylor Swift.
94/140
May 28, 2015
Leaving Taylor Swift's apartment in New York City carrying a Max Mara bag.
95/140
May 27, 2015
Out in New York City.
96/140