Kim Kardashian Loses 100,000 Followers Because of Airbrushed Photos
Since seeing the unretouched photos of her on the beach, people are not happy with her Photoshopping.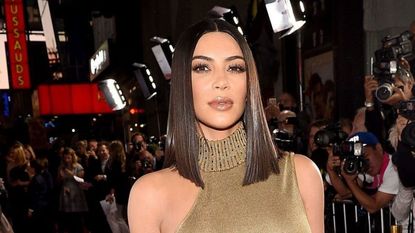 (Image credit: Getty Images)
Earlier this week, a number of photos of Kim Kardashian on holiday in Mexico started doing the rounds. The pap shots showed Kim, Kourtney Kardashian, and their pal Jen Atkin larking about on the beach. The ladies were wearing thong bikinis, and the photos showed that, like 95 percent of people in the world, Kim has cellulite.
But now, some of the Keeping Up With The Kardashians star's followers have turned against her. Not because she has cellulite, but because they feel like she's been lying to them this whole time by posting airbrushed photos of her behind on social media.
In fact, they're so pissed, some of them have even stopped following her—the 36-year-old has lost a whopping 100,000 followers. And a few people have also given Kim a piece of their minds…
#KimKardashian doesn't have a #natural bone in her body shes as fake as her #personality #sorrynotsorry #fakebooty #Photoshop @KimKardashian pic.twitter.com/Xf8O8h5WSTApril 28, 2017
See more
The problem isn't with @KimKardashian having cellulite,the problem is she's airbrushed and photoshopped so much, we don't know the REAL herApril 24, 2017
See more
But a number of her followers have also spoken up in support of Kim…
Bugs me how much ppl slate Kim K, just let her enjoy her bloody holiday w her naturally normal bum?? @KimKardashianApril 26, 2017
See more
Disappointed by nasty comments about @KimKardashian 😔Slated if she's airbrushed & slated if she isn't. Sad world! Body shaming is never okApril 24, 2017
See more
@KimKardashian gets criticism when her bum is airbrushed& also gets criticism when her bum is un-airbrushed, this doesn't make senseApril 26, 2017
See more
Well, whatever you think about the airbrushed/un-airbrushed photos of Kim Kardashian, she still has 98.7 million followers left, so she's probably not too bothered.
Follow Marie Claire on Facebook for the latest celeb news, beauty tips, fascinating reads, livestream video, and more.
Anna Lewis is the News Editor at Delish UK, which means she's always either writing about food, cooking food or eating food. Anna is in charge of Delish UK's epic food news output, ensuring you're always up-to-date with the latest product launches, food trends, and restaurant news. She specialises in Slimming World recipes, but she'll eat just about anything – ideally gherkins or ice-cream sandwiches (but not together).