Chrissy Teigen Just Shut Down a Hater on Instagram Who Accused Her of Photoshopping Her Butt
R.I.P. to the poor soul that tried her.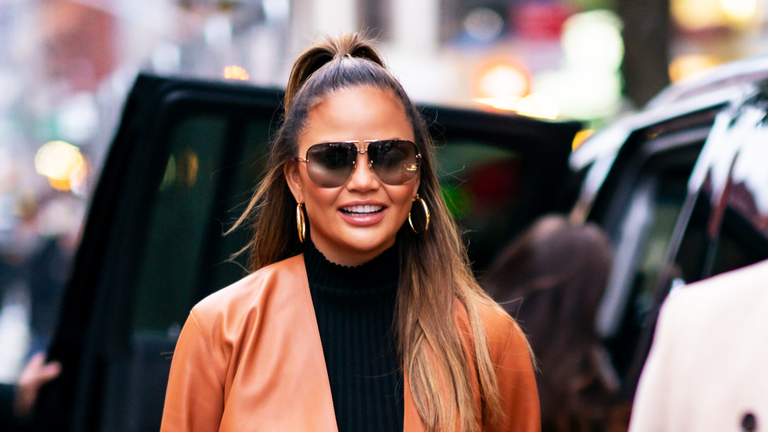 (Image credit: Gotham)
Chrissy Teigen posted a photo of her modeling a pair of leggings with John Legend's face on it.
An Instagram user on Chrissy's post accused her of photoshopping her body, and Chrissy (predictably) had the best response.
If I'm honest, I freakin' stan the sh*t out of Chrissy Teigen. Of course, I stan Chrissy for being a killer model. And yes, her relationship with husband, John Legend, leaves me in stitches because how could it not? But perhaps what I love most about Chrissy is her unique ability to land the best insults I've ever read/heard in my life. Homegirl is talented! So when she was accused of photoshopping her body in a new butt Instagram of hers, she shut it down reaaaal quick.
On Instagram yesterday, Chrissy posed with her backside on full display to show off a rather...interesting pair of leggings—with John's face all over it, LOL—that she received in the mail. A perfect gift, if you ask me! She captioned the post, "We get...really random stuff sent to the house."
Sadly, some people in the comments weren't living for this and doubted that her curves were real. A very salty user wrote, "photoshopped. Why didn't it [Chrissy's butt] look like that when John was in the jacuzzi, like wth is that 🤔🤔" This person had nooooo idea what was in store for them.
Since Chrissy is the literal queen of clapbacks, of course she replied in true Teigen form. "Maybe you've just never seen a girl in this position before but it's good for looking like you have an ass," she replied, completely annihilating the poor soul—rest in peace.
In conclusion: It's Chrissy's world and we're all just Instagram users living in it at her mercy. Sorry, I don't make the rules. ¯\_(ツ)_/¯
For more stories like this, including celebrity news, beauty and fashion advice, savvy political commentary, and fascinating features, sign up for the Marie Claire newsletter.

RELATED STORIES
Starr Bowenbank is the assistant news editor who writes about all things pertaining to news, pop culture, and entertainment—you can follow her here. Writing aside, she loves singing literally everywhere, dancing in the street, hanging out in the East Village every chance she gets, and making her dreams come true.