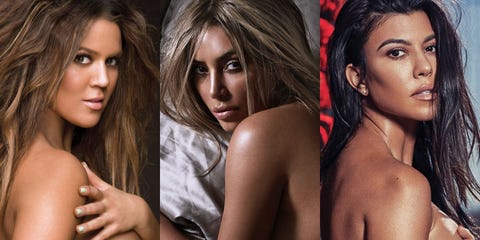 Kim isn't the only Kardashian who is proud to pose nude—the Kardashians and nudity are more or less synonymous at this point. The sisters have never shied away from baring all and, honestly, that's one of the things we love most about them. If nothing else, the Kardashians will go down in history as crusaders for nakedness and free-ers of nipples. The human body is beautiful, and no one family has done more to celebrate that beauty than the Kardashian-Jenners. When the Kardashian sisters go nude, they don't just hint at nakedness, they go for it. The Kardashian-Jenners (Khloé, Kim, Kourtney, Kendall, and Kylie, of course, but also including matriarch and momager supreme, Kris Jenner) have posed in various states of undress countless times over the years. Here, we catalog some of their most naked moments of all time.

When Khloé Proved That "Stronger Looks Better Naked"
For the cover of her book, no less.
When Khloé Mixed Nudity and Politics