21 Thanksgiving Outfits to Plan Out Before the Tryptophan Kicks In
That damn bird can't be better dressed than you.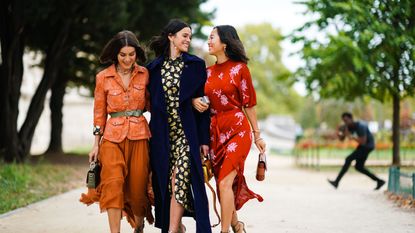 (Image credit: Edward Berthelot)
Thanksgiving may look a little different this year—but no matter where you are or what you're doing, a good outfit will always make you feel like your best self. For your Thanksgiving festivities (opens in new tab) this year, whether you're eating takeout turkey with cranberry sauce at home, enjoying the real thing with your family, or hosting a Friendsgiving potluck, you'll need an outfit that looks stylish, has a little give, and reflect the joyfulness of the holiday. Here, we've put together a range of Thanksgiving outfits to inspire you this year. Just plan out your outfit before the tryptophan—the amino acid in turkey that's responsible for your post-dinner nap—kicks in.
1/21
Pop of Color
Bring some color to the dinner table with a pair of bright trousers (opens in new tab). Balance out the look with a neutral sweater and wool coat. This outfit is a sure way to show the family you don't belong at the kids' table.
2/21
Add Accessories
Swap out your usual pendent necklace for a silk scarf (opens in new tab), a chic and fashion-forward way to accessorize any outfit.
3/21
For Warm Weather
If you're lucky enough to be somewhere warm for the holidays, try a linen shift dress paired with a sweater tied around your shoulders to give you the cozy fall feels.
4/21
Worth The Risk
When you're skilled enough not to spill red wine or cranberry sauce, opt for a winter-white dress (opens in new tab) with exaggerated shoulders. Pair your look with dainty accessories and a gold heel for a more formal look.
5/21
These Boots Are Made For Talking
Make your boots the focal point of every conversation with these Khaite zebra boots (opens in new tab). Aunt Betty will be asking you where she can find them rather than what your relationship status is this year.
6/21
Don't Overthink It
Every woman should have at least one wrap dress (opens in new tab) hanging in her closet for this exact occasion. Throw on this always flattering go-to and pair it with a fun colored shoulder-bag and block heel (opens in new tab) and you're out the door.
7/21
8/21
Casually Coordinated
Imagine showing up to Thanksgiving dinner with your cousins looking this chic. Coordinate with a color palette and work grandma's driveway like it's your own personal runway.
9/21
Matchy Matchy
Show off your city girl style this holiday with this super-simple but cool skirt-boot combo.
10/21
11/21
Stand Out
Swap out your usual satin skirt for a more edgy yet grown-up leather pencil skirt (opens in new tab). This skirt is worth every penny and will last you years to come. Pair it was a printed oversized cardigan and turtleneck to keep you warm.
12/21
Fall Florals
Vintage-esque, edgy, and family-approved. Trade in your pastel floral mini dress for a dark and whimsical version (opens in new tab), perfect for the colder months ahead. (This one's even on sale!)
13/21
Pattern on Pattern
Show off your legs but keep it holiday-appropriate with a mini skirt and everyone's favorite Gucci tights (opens in new tab).
14/21
Sweater Weather
You can't go wrong with a sweater dress (opens in new tab)! They're the perfect combination of cozy and chic. Add a pair of jewel-toned booties and a cute belt bag (opens in new tab)to keep it young and trendy.
15/21
Cut Outs
Add a little extra something to your go-to jeans and oversized sweater look. Grab yourself a more fitted sweater with cutouts (opens in new tab) to show some skin, and pair it with high-waisted straight-legged denim. This outfit calls for minimal effort with maximum results.
16/21
Separate But Together
What's easier than a matching set (opens in new tab)? It's an instant outfit; all you have to do is accessorize. Find yourself a plaid set that can be worn together or as separates.
17/21
Full Coverage
For added coverage, you can lengthen your top to past the hips. The more fabric for ruching over the evidence of a meal well enjoyed.
18/21
Give It A Heel
You were going to wear this anyway, right? Swap out the slippers for slingbacks (opens in new tab) (a fair trade in comfort, really).
19/21
Oversized Everything
And for maximum food-baby-obscuring, go big and loose. Wear a monochromatic pieces for a more streamlined effect, and sleeves pushed up to prevent things that aren't poultry from being dragged through the gravy.
20/21
Super Hero
If your plan is to ball out, try a cape, which seems to be showing up on our favorite street style stars more and more these days.
21/21
Keeping It Casual
If your event is on the casual side, make your comfy, stretchy loungewear feel expensive by finding a coordinating set that's fitted to keep it from looking frumpy.
Taylor Ayers is a fashion editor at Marie Claire, covering the new editorial fashion trends, looks, and contemporary styles.