How to Get the Most Out of Plus-Size Holiday Pieces
Full-figured style expert Nicolette Mason offers up the ultime layering items to transform party gear to everyday wear come January.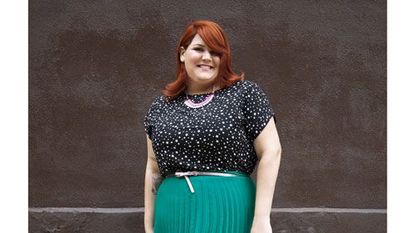 (Image credit: Julia Chesky)
The entire month of December appeals to my magpie sensibility —' all those rhinestones, paillettes, and feathers. But over the years, I've learned that one of the greatest challenges for plus-size girls like me isn't just finding that special something to take us through the mad dash of holiday cocktail parties and dinners, it's also figuring out how to ensure that those glittery, pricey purchases won't languish in the back of our closets come January 1st.
Here's the trick to repurposing your favorite holiday frocks and separates: layering. I know many full-figured women gasp when they hear the word, fearing that the added weight of more fabrics will make them appear bulkier. (That's only true if you're layering with a flannel Snuggie.) So I've rounded up my favorite foolproof layering pieces guaranteed to keep you stylish —' and sparkling —' year-round.
1. Skinny black pants: So you dispensed with prudence and snapped up a ridiculously flashy jacket for the holidays, the kind that would likely trigger a full TSA pat-down at the nearest airport —' la Anna Scholz's blush-pink feather jacket. (If you haven't heard of Scholz, one of the world's premier plus-size designers, get thee to Google ASAP.) Give your showstopper a second life by pairing it with a soft crewneck and skinny black pants for major weekend chic. (I love the zipped-up pair from the Aussie label Damn You Alexis.) It's hard to pull off multiple statements at once, so when sporting an over-the-top piece, accessorize smartly and conservatively —' think simple ballet flats and minimal jewelry.
2. The cashmere sweater: A sexy sequined dress from Aidan Mattox (up to size 22W) transitions from cocktail hour to cozy brunch when worn under this luxuriously soft cashmere sweater from Talbots (up to size 3X). Throw a skinny metallic belt over it and it's the ultimate ode to J.Crew Creative Director Jenna Lyons, the queen of effortless layering. Toughen up the ultra-cozy look with a rugged ankle boot.
3. The contrasting tee: My go-to cocktail dress this season is Anna Scholz's lattice-front LBD (up to size 28), a stunner with sassy cutouts on the shoulders and an übercomfortable double knit. I tone down the formality of this cool number using a trick I lifted from Balenciaga designer Nicolas Ghesquière: Throw a contrasting long-sleeve tee underneath. (American Apparel's goes up to size 3X online.) Cap the modern look with a bright structured bag in another hue.
In need of a killer dress this holiday season? I've collected my favorites just for you at marieclaire.com/nicolettemason. And e-mail me all your fashion questions at biggirl@marieclaire.com!
Celebrity news, beauty, fashion advice, and fascinating features, delivered straight to your inbox!