Miley Cyrus and Liam Hemsworth Were Spotted Wearing Wedding Bands on Vacation
Wait...did they get married without telling us?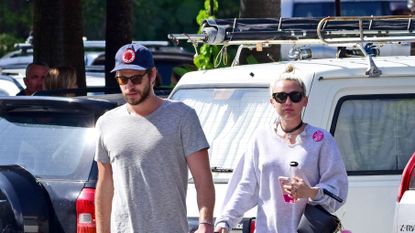 (Image credit: Archives)
Miley Cyrus and Liam Hemsworth are currently on vacation in Tybee Island, where they first met while filming The Last Song in 2010. The pair have been spotted jet skiing, walking hand-in-hand, and being generally cute—and fans were quick to notice that they're wearing some new rings on their fingers. Their ring fingers, to be exact. You can see the photos right over here.
Miley was seen wearing the engagement ring that Liam gave her back in 2012, alongside a new band that looks suspiciously wedding-like. Meanwhile, Liam was also seen wearing a band on his wedding finger.
But before you get too excited, it should be noted that Miley recently said, "I don't envision marriage. I'm 24. I hope to get to live a little bit more. I have too much living to do." Plus, an astute fan noticed this:
And it should be noted that Liam has been seen with a ring before, which was described as "a 'promise' to Miley." In conclusion: what is the truth/you can't handle the truth, etc.
RELATED STORIES