Channing Tatum and Jenna Dewan's Daughter Watched 'Step Up' and Her Reaction Was Hilarious
"Everly, Everly, look! It's mommy and daddy!"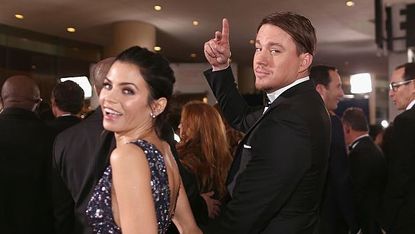 (Image credit: Getty Images ¦ Christopher Polk/NBC)
I think it's safe to say that Channing Tatum and Jenna Dewan's daughter isn't the ~biggest~ fan of their early acting careers.
Speaking to Huffington Post, Jenna spoke about the couple's almost four-year-old daughter, Everly, accidentally watching "Step Up" for the first time.
"It was so funny, we were like, 'Everly, Everly, look! It's mommy and daddy!' At first she didn't think it was us," Jenna told the site. "She's like, 'That's not you guys.' And I'm like, 'No, it's us, Evie, it's me!' And then she goes, 'Can we watch something good?' Just like that, and we were humbled. One day she'll maybe appreciate it on a different level, but yeah, she's not so into it."
Everly will grow up and learn! One day she will understand the glory that is Step Up! And maybe her parents will learn to appreciate its genius, too — as Jenna shares in the interview, they're both a little bit mortified by it now.
"We both cringe because ... we're just so baby new ― our acting, we're like, 'What are we doing there?!' Jenna said. "It's so sweet. We were talking about it the other day, like, 'Do we remember that routine at the end?' I think when it was the 10-year anniversary we did the lift outside in our yard just to prove that we could still do it!"
Check it out:
Jenna also shared that Everly has been to rehearsals for Magic Mike, and that they plan to show her the entire movie before someone at school does.
"We got to show ['Magic Mike'] to her before one of her friends at school is like, 'I saw this movie your dad's in...' She's been at rehearsals so there's a part of her that probably gets it."
When Everly grows up and finds out about her dad and Magic Mike, Merriam-Webster is gonna have to invent a new word from proud-embarrassed.
Follow Marie Claire on Facebook for the latest news, fascinating reads, livestream video, and more.
I write on Fox's THE GREAT NORTH. Before that, I wrote and edited for Cosmopolitan magazine and the Jezebel blog. My writing has also appeared in the New York Times, The New Yorker, Esquire, VICE, Marie Claire, McSweeney's, California Sunday, BUST, Elle, Village Voice, Harper's Bazaar, LA Weekly, Eater, Fast Company, Mic, Atlas Obscura, and more. I co-host/co-produce a comedy/storytelling show on the first Friday of every month at Stories in LA. I have a degree in Film and TV from NYU's Tisch School of the Arts.