Gigi Hadid Clears Up Confusion About That Illegal "Belgie Tour" Merch
Oops...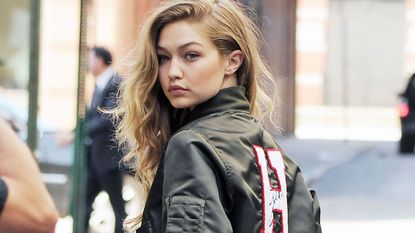 (Image credit: Getty Images)
Marie Claire newsletter
Celebrity news, beauty, fashion advice, and fascinating features, delivered straight to your inbox!
Thank you for signing up to . You will receive a verification email shortly.
There was a problem. Please refresh the page and try again.
Earlier this week, Gigi Hadid snapped a photo of herself wearing a pink hoodie featuring a graphic of her and her sister Bella along with the words "Belgie Tour" in a Barbie-inspired font.
Immediately, the Internet took notice and wanted their own Belgie merch, which was being sold by online boutique Urban Sophistication (opens in new tab). Given both Hadid sisters' love of personalized apparel, it seemed an obvious endeavor for them and it was assumed by many that the tees and sweatshirts were the product of a collaboration between the models and the site.
Unfortunately for Gigi and Bella fans though, the items were not created in affiliation with the Hadid sisters, nor did the boutique have their seal of approval to sell them—despite what many media outlets reported (opens in new tab).
Gigi took to Twitter on Friday evening to clear things up, adding that the use of their likeness on these products was not legal. (Though she admittedly loves them.)
There's been some confusion about the "Bella and Gigi Tour" sweatshirts. We are not affiliated with their productionAugust 19, 2016
See more
(cont) We were sent them, and we love them as a fan creation, but selling them using our likeness isn't legal.August 19, 2016
See more
The items have since been removed from Urban Sophistication's website. But if you're dying for some Hadid merch, don't lose hope. Gigi also tweeted that she and Bella would be sure to make an official announcement should they decide to do their own line.
Regardless of what you read, wait for our 👍🏼. @bellahadid and I will 100% let you know if/when we decide to put out our own merch :) ❤️❤️❤️August 19, 2016
See more
And considering all the attention this fake merch has received, perhaps they'll be even more likely to give their fans what they so clearly want.
I am an experienced editor, writer, and creative strategist, specializing in fashion, beauty, and lifestyle content for digital media outlets, as well as video and social platforms. While I currently operate as a freelance contributor/consultant, with such clients as The Zoe Report, my 10+-year background in the industry was cultivated at the dot-coms of elite publications, including Harper's BAZAAR, ELLE, and Marie Claire.