6 Ways to Get Shiny Hair
Your get-sexy-hair guide: Quick & easy pro tips.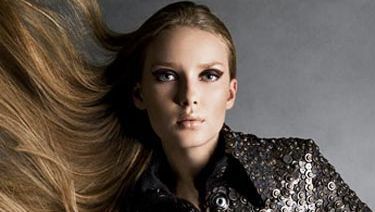 (Image credit: Joshua Jordan)
Everyone wants locks that glisten with light. No matter what your hair texture is, you can have healthy-looking hair by following our shiny hair secrets. We've even got professional beauty advice for your type of hair.
If Your Hair Is Damaged Improving its condition is the only way to make it look shinier.
When hair is damp, apply leave-in conditioner to damaged areas.
Invest in a quality deep-conditioning treatment and use once a week.
Although blow-dryers and straightening irons may add to the damage, they're the only things that will make your hair look sleeker temporarily. "Your hair needs heat to smooth the cuticle — these are the tools that can do it," says Labrecque. Put the blow-dryer on a high setting and use an iron on hair ends. Apply drops of frizz-taming serum to dry hair.
TRY: Clairol Herbal Essences Intensive Conditioning Balm
TIP: Add a spritz of hairspray to your brush before running it through your hair to control static and hold the style.
If Your Hair Is Straight Lucky you. "Straight hair has great natural shine, because its flat cuticle is highly light-reflective," says New York City salon owner Paul Labrecque.
To get maximum shine, wash and condition your hair, then blast it with a cold-water rinse for about three seconds. "This helps seal in conditioner, making hair easier to style and adds a ton of shine," says Labrecque.
Blow-dry while brushing with a natural boar-bristle paddle brush. Apply a bit of light finishing serum to frizzy areas (like ends). Finish with shine-enhancing hairspray.
TRY: Aveda Pure-Fume Brilliant Hair Spray
TIP: If you've been O.D.-ing on styling products, buildup could be making your hair dull. Use a clarifying shampoo like Aussie Citrifier Shampoo for seven days, then once a week.
If Your Hair Is Curly Curly hair tends to have more shine-reducing short pieces and split ends. This becomes really noticeable when it's blown straight.
Use a moisturizing shampoo and conditioner and a straightening gel. Detangle with a wide-tooth comb.
As you blow-dry, wrap 2" sections around a round brush to straighten.
Apply a finishing cream from 1" below the roots to the ends.
To get super-glossy curls: After conditioning hair, don't rinse completely — leave a little in. Apply a gel to damp hair and twist sections around your fingers. Let hair dry naturally.
TRY: Charles Booth Milk & Honey Pure Cream Shampoo
TIP: Glossing sprays are great for boosting shine midday.
SHINY HAIR SECRETS
DO use heat-activated shampoos, conditioners and styling products like those from ThermaSilk, Vidal Sassoon and Neutrogena. Their moisturizers are released by the heat of your hairdryer.
DO treat yourself to a weekly deep-conditioning treatment or hair mask like Joico K-Pak.
DO use your fingers to separate your curls once your hair is dry, if it is curly. A brush will cause your hair to frizz.
DO try a shine-enhancing hair-color product like Revlon Super Lustrous or L'Oréal Féria if you're going to color your hair at home.
DON'T apply finishing products too close to your scalp — your hair will look greasy.
DON'T weigh down fine hair with a heavy serum formulated only for very thick hair.
DON'T apply a ton of product before using a straightening iron. A sticky gel not designed to protect the hair can actually "cook" it.
DON'T use a plastic vent brush to detangle wet hair. It stretches and eventually snaps the hair. Use it to brush as you blow-dry, to give your hair a sleeker look.