10 Kardashian Weight Loss Tips That Might Actually Work
The proof is in lost pounds.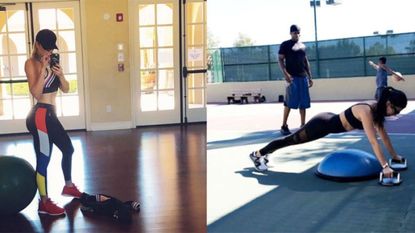 (Image credit: Khloe Karashian / Kourtney Kardashian / Instagram)
Marie Claire Newsletter
Celebrity news, beauty, fashion advice, and fascinating features, delivered straight to your inbox!
Thank you for signing up to Marie Claire. You will receive a verification email shortly.
There was a problem. Please refresh the page and try again.
Although none of the Kardashian women are certified weight-loss experts, they've collectively lost hundreds of pounds right before your eyes:
Take Kim, who lost the 60 pounds she gained during her last pregnancy:
Or Kourtney, who lost her 35 pounds of baby weight within five months of giving birth:
And then of course there's Khloé, who appears to be maintaining her 40-pound weight loss:
While some of their weight loss strategies are ineffective (and a bit absurd), the Kardashians do have access to the best nutritionists and fitness trainers that money can buy. To figure out which of their weight loss tips are safe and effective for people who may need to lose weight, we asked Philadelphia-based weight-loss specialist Charlie Seltzer, MD, to assess. Here are the ones that are worth your time:
1. Set a realistic weight-loss goal.
Throughout Kim's most recent post-baby weight loss journey, she was vocal about her weight-loss goals, and even shared photos of her feet on a scale.
Expert's take: People who weigh themselves frequently tend to do better with weight loss because they have data points that clue them in when something they're doing isn't working and can adjust their diets accordingly, according to Dr. Seltzer. As long as you pick a realistic goal and don't fixate on minor weight fluctuations, which can happen when you eat later than usual or dig into extra-salty food, weighing yourself every morning can be a useful weight-loss tool. (And if you do tend to get compulsive about the number, considering having a weight-loss professional track your progress for you or talking to psychologist if your weight really drives you crazy.)
2. Start your day with a protein shake.
Kourtney has said she drinks protein shakes for breakfast. They're made with banana, apple, nonfat yogurt, milk, almonds, cinnamon, and a scoop of ice with vanilla QuickTrim protein powder (an item that features her sisters on the label, FWIW). Meanwhile, Khloé follows suit: She's said she drinks her protein shake on the way home from her morning gym session to stave off hanger.
Expert's take: Dr. Seltzer is a fan of the high-protein breakfast: "It's a convenient way to get nutrition in the morning, and because you count ingredients as you put them in, they're portion-controlled," he says.
3. Eat the same breakfast half the year, and then switch it up to something else.
Kourtney is a creature of habit, according to a post she wrote on her app: She says she eats the same breakfast every day for six months, then switches it up with a different go-to breakfast for the rest of the year.
Expert's take: Eating the same meal regularly is known as stimulus-narrowing, a strategy that reduces your options to help you eat fewer calories, which can result in weight loss, according to Dr. Seltzer. (It comes down to personal preference — if eating oatmeal day in and day out bores you, and ultimately triggers cravings for other foods, this one's probably not for you.)
4. Limit your calories.
Kim doesn't eat more than 1,800 calories a day, her nutritionist Colette Heimowitz toldElle.
Expert's take: While counting calories can drive anyone nuts, controlling how much you eat is a necessary evil if you're serious about losing weight — whether it's counting calories or reining in your serving sizes. "People who track their food do better at losing weight because they know how much they can eat," Dr. Seltzer says, meaning this tip actually enables you to eat the foods you want and still hit your weight-loss goals. If you're not apt to track every bite, just take note of your overall intake, and compensate with a lighter lunch before a big pizza dinner. You'll naturally keep your daily intake in check.
Caloric needs are highly personal and based on your age, height, average activity level, current weight, and goal weight, but you can use this chart to estimate your ideal intake, then ask your doctor how much it's cool to cut.
5. Channel your emotions into exercise you love.
Khloé has written that she once ate out of boredom, habit, and unhappiness. But during her breakup with Lamar, she turned to exercise rather than eating, watching bad reality TV on an elliptical and working out with her trainer Gunnar Peterson instead. "He taught me that the trick to staying motivated is to find what you really love to do," she told Shape magazine.
Expert's take: While research suggests that exercise can't offset the damage done by emotional eating binges (humans simply can't burn calories as quickly as they can eat them), replacing the destructive eating behavior with productive ones (like exercise) can release endorphins that relieve anxiety, improve your mood, and provide a coping mechanism that doesn't cost you calories — ideal when weight loss is the goal.
6. Eat about the same amount of food every day—regardless of your workouts.
Kim eats about the same number of calories regardless of whether she's doing an intense workout or laying low, according to Heimowitz. "You're taking in 1,800 calories and enough protein to turn your body mass into muscle," she told Elle. "There's no need to adjust it for someone working out."
Expert's take: While conventional wisdom suggests that the more you move, the more fuel you need, increasing your intake on extra active days can stunt your weight-loss efforts. So long as you aren't a pro athlete training for an endurance sport, and you're eating enough protein, Dr. Seltzer recommends against eating more calories to compensate for activities. "Some people who work out actually conserve calories when they stop exercising or subconsciously move less after a workout," he explains. So when you exercise, just make it your goal to get faster and stronger. Then adjust your calories based on whether you're meeting your weight-loss goals, he suggests.
7. Drink 12 cups of detox tea a day.
Kendall told E! News she drinks Kusmi Detox Tea in the morning with upward of 12 refills a day. (She could be exaggerating, but hey, you get the point.)
Expert's take: While 12 cups can land you in the bathroom quite a bit, Dr. Seltzer says it would be difficult to really overdo it on decaf tea. So long as you don't drink it in lieu of meals—a stupid idea, considering tea has no calories, and you need calories to perform every bodily function and fend off cravings that lead to overeating—Dr. Seltzer doesn't take issue with drinking any flavor of tea that suits you.
8. Eat three to four servings of protein a day.
Kim's meal plan includes a 6-ounce serving of protein at every meal throughout the day: She might dig into eggs with veggies and a slice of cheese for breakfast, grilled salmon for lunch, and a chicken breast for dinner.
Expert's take: "There are wildly different recommendations on protein and requirements, but generally, the more you eat, the more full you'll feel," says Dr. Seltzer, who stresses that protein is vital for maintaining muscle mass during periods of fat loss.
9. Snack on packaged bars to hold you over between meals.
Kim's food plan suggests she snacks on Atkins Harvest Trail Dark Chocolate Cherry and Nuts Bars—a 150-calorie bar that contains twice as many carbs (16 grams) as grams of protein (8 grams), with 10 grams of fiber from ingredients like chicory root fiber, soluble corn fiber, and oat fiber. It's also sweetened with sucralose.
Expert's take: Despite the fact that this bar contains a lot of random ingredients, including a questionable artificial sweetener, Dr. Seltzer says that snack bars can indeed assist with weight loss: "I don't care about eating processed foods when they're portion-controlled," he says. "Someone who loses weight from eating portion-controlled processed foods will probably live longer than someone who eats hummus, almonds, and kale, and weighs 600 pounds." He's a big fan of this bar's fiber content, in particular, because fiber keeps you feeling full so long as you increase your intake gradually to prevent gas and bloating.
10. Eat whatever the f*ck you want.
If you ask Khloé, she'll tell you Kendall follows the anti-model diet: She loves burgers and pizza and goes to In-N-Out all the time.
Expert's take: "There are better things to eat, but to me, this is better than a raw, vegan diet that leaves you feeling deprived and going off the deep end, eating 100 burgers and ending up overweight," Dr. Seltzer says. While he hasn't seen Kendall's blood work, she assumes if she's lean and maintains her weight, she could be doing worse.
Khloé really sums it up in her book, Strong Looks Better Naked: "I think most diets are torture, which is why I don't believe in them...If I want a piece of cake one night, I'll have my piece of cake!" she writes.
Follow Marie Claire on Facebook for the latest celeb news, beauty tips, fascinating reads, livestream video, and more.
Celebrity news, beauty, fashion advice, and fascinating features, delivered straight to your inbox!
Elizabeth Narins is a Brooklyn, NY-based writer and a former senior editor at Cosmopolitan.com, where she wrote about fitness, health, and more. Follow her at @ejnarins.