Jon Stewart Rips the Media for Obsessing Over Caitlyn Jenner's Appearance
"Welcome to being a woman in America."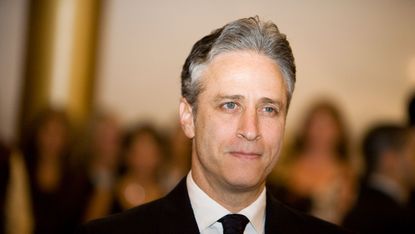 (Image credit: Archive)
Caitlyn Jenner introduced herself to the world with a stunning Vanity Fair cover. And though she definitely looked gorgeous, the fact that her looks were what so many people focused on was not something that sat well with The Daily Show's Jon Stewart, who pointed out last night that being objectified is practically a rite of passage for female celebrities, Caitlyn included.
"It's really heartening to see that everyone is not only willing to accept Caitlyn Jenner as a woman, but to waste no time in treating her like a woman," he said. And that means analyzing every detail of her appearance, from her fashion to her makeup to whether men would sleep with her.
"Caitlyn, when you were a man, we could talk about your athleticism, your business acumen," Stewart said. "But now you're a woman, and your looks are really the only thing we care about."(It should be noted that Caitlyn says she was always a woman, even while winning the Olympic decathalon, but Stewart here is focusing on what the public thought.)
And if people weren't focusing on her sexy outfit, they were reminding everyone that she's totally old and has an "expiration date," since she came out at 65. Basically, they're now treating her like any other female celebrity. "So Caitlyn Jenner, congratulations," Stewart said. "Welcome to being a woman in America."
Megan Friedman is the former managing editor of the Newsroom at Hearst. She's worked at NBC and Time, and is a graduate of Northwestern's Medill School of Journalism.