The 50 Best Gifts for Women You Can Buy on Amazon
Consider Amazon your one-stop-shop this year.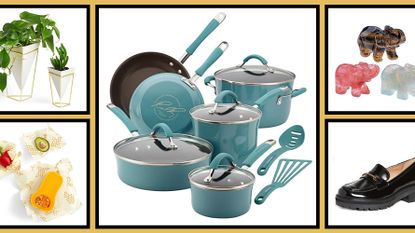 (Image credit: Amazon/Design by Susanna Hayward)
No matter the gift-giving category you're shopping for, be it under-$100 gifts or stocking stuffers, Amazon has everything you need. The retailer has dedicated sections to easily guide you through its enormous product offerings—we personally spent a lot of time in the white elephant category (opens in new tab)—and there's something for everyone's budget. For this guide, we're focused on gifts for the special women in your life, be it your sister (opens in new tab), daughter, niece, and/or BFFs (opens in new tab). We shuffled through countless Amazon categories in the lifestyle and tech space to find must-have kitchen gadget, like the cult-favorite Instant Pot and that under $10 lip scrubber made with nourishing jojoba oil. The items we found make for great standalone gifts, but can also be added to stocking stuffers for later this year. Consider Amazon your one-stop-shop to finding the perfect present for everyone on your gift-giving checklist, ahead.
1/50
Mario Badescu Facial Spray Herbs/Rosewater and Cucumber/Green Tea
A Facial Spray
Industry experts swear by these facial sprays. She'll keep these in her bag and on her desk for whenever she needs a quick spritz to help her feel more refreshed.
2/50
Barack Obama A Promised Land
A Popular Book
Any fan of the Obamas will want to get her hands on the latest book from this family. Barack Obama's A Promised Land is worth a read and not to mention, he looks great on the cover. Miss you.
3/50
Mighty Mojo Tiger King Jigsaw Puzzle
A Puzzle Piece
Her addiction to Tiger King was strong, so gift her this LOL-inducing 1,000 piece puzzle. She might just end up framing the finished puzzle for decor.
4/50
State Cashmere Women's Open Front Long Cardigan
A Cashmere Cardigan
You're probably thinking: Amazon sells cashmere?! Yes, it does. This cardigan comes in multiple colors and is great for the lady in your life who wants to stay warm and cozy for winter.
5/50
State Cashmere Classic Jersey Knit Gloves
A Pair of Cashmere Gloves
If the cashmere cardigan is out of your budget, opt for these more affordable cashmere gloves instead. They come in various colors and are 100 percent cashmere.
6/50
VNS Creations Blank Cards With Envelopes & Stickers
A Set of Notecards
When she needs to send a quick thank you note or letter, these colorful cards will come in handy. They're free from any cheesy designs, so will please everyone's tastes.
7/50
COSORI Air Fryer Max XL
An Air Fryer
For the cook, and also non-cook, in the kitchen, gift her this easy-to-use air fryer. (I personally swear by it and use it at least twice a week!) Everything, from chicken to broccoli to sweet potato fries, that comes out of this Corsori product is tastier.
8/50
Birkenstock Arizona Lavender Suede Shearling N 37 N EU
A Pair of Fuzzy Sandals
Grow her Birkenstock collection with this furry pair. It's an easy option for her to slip on and off when she's on the go.
9/50
Interior Illusions Plus Royal Blue Balloon Dog, 12"
A Ballon Dog Bank
She can drop any loose change she has directly into this piggy dog bank. The piece works as a decor item, too, which can be displayed on any entryway table or bookshelf.
10/50
Herbivore Botanicals Natural Coco Rose Body Polish
A Coconut Oil Body Scrub
This coconut oil, rose blend body scrub is great as a stocking stuffer or small gift for those who are on a budget. Herbivore products never disappoint in quality and this is one cute bathroom item you won't be embarrassed to display on the counter.
11/50
Kikkerland Cat Butt Magnets, Set of 6
A Set of Cat Magnets
She's a cat mom and proud of it, which is why she'll be obsessed with these cat butt magnets. They're playful and quirky additions to her refrigerator door.
12/50
POWERADD Portable Charger External Battery Pack
A Portable Charger
She always freaks out when her battery runs low. With this portable charger at her disposal, however, she'll be less inclined to go into panic mode the next time her phone says its on 30 percent battery.
13/50
USAGA Head Massager Scalp Scratcher
A Scalp Scratcher
For the person who loves massages, you'll definitely want to gift her this head massager. It has 20 prongs, so the massager really gets in there to do work.
14/50
Zenfy Zen Sand Garden for Desk With Rake, Rocks and Figures
A Japanese Zen Garden
When she's feeling stressed, she can calm her senses by raking the sand or reorganizing the pieces in this Japanese Zen garden. It's therapy for the mind, for only $25.
15/50
Intex 2-Person Inflatable Kayak Set
An Inflatable Kayak Set
She loves water activities, but doesn't have that much space to hold onto gear. Luckily when this kayak isn't in use, it can be folded down and put into the closet.
16/50
roselynboutique Jade Roller for Face and Gua Sha Set
A Jade Roller Set
You can read all about the benefits of jade rolling here (opens in new tab). She'll be excited to use this set every night, or morning, depending on her skincare routine.
17/50
LIFVER Coasters for Drinks, Absorbent Coaster Set of 6
A Set of Coasters
Coasters that are neither too loud or boring. She'll be able to display these on every surface, from her dining table to her coffee table.
18/50
La Chatelaine Hand Cream Trio
A Hand Cream Set
Winter weather calls for carrying lotion wherever you go. These pocket-sized hand creams are made with 20 percent organic Shea Butter, Vitamin E, and Argan Oil to keep your skin moisturized and smooth.
19/50
Elan Publishing Company Deluxe Undated Teacher Planner: 8.5"x11"
A Teacher Planner
She's a teacher with a never-ending to-do list. Help keep her organized and ready to start her lessons with this teacher-specific planner. It's durable and built to last the entire school year.
20/50
GGUHHU Chic Button-Down Rolled-Up Sleeve
An Oversize Shirtdress
She prefers wearing pieces like the nap dress over formfitting garments. This shirtdress will be right up her cozy-all-day-everyday-type of loungewear. It can be unbuttoned all the way, too, to wear as a cardigan.
21/50
Skip Hop Baby Guitar Developmental Musical Toy
A Musical Toy for Babies
For the person in your life who has a child with relentless energy, gift this six-song guitar in a cute avocado shape. The tot will be entertained for at least a few minutes, so mom can take a quick coffee break.
22/50
X-Chef Herb Scissors
A Pair of Herb Scissors
Chopping herbs is time consuming and sometimes spills over on to the floor from the cutting board. This pair of scissors will help snip all your herbs with the ease and quickness of an equivalent 10 knife chops.
23/50
The Drop Francesca Croissant Pouch Bag
A Trendy Bag
For a very on-trend hand bag, gift her this cloud-like pouch. The neutral tone goes with all wardrobe items, from jeans to a dress. On days she wants to be more dressy, she can pull this out of the closet, tuck under her arm and feel fab.
24/50
Goplus 2 in 1 Folding Treadmill
A Foldable Treadmill
This foldable, space-saving treadmill will be a game changer to the way she exercises indoors, especially in these pandemic times. When it's too cold to run outdoors or too dark, she'll appreciate the convenience of this machine.
25/50
Top Plaza Healing Crystal Stones
A Set of Healing Stones
She's super into crystals, tarot cards and feng shui as a way to stay spiritual and connected to the energies around her. Gift her a set of crystal elephants that represent protection, luck, wisdom, and fertility.
26/50
Singing Machine Official Carpool Karaoke The Mic
A Pair of Bluetooth Microphones
You don't need a big karaoke sound system to sing your heart out. Now you and her can partner up or duel it out to cover your favorite songs with these handheld Bluetooth mics.
27/50
CAILLU Cord Organizers
A Bunch of Cord Organizers
This pack of cord organizers makes for a good stocking stuffer because of their size. They're functional and the leather material looks way nicer than using hair ties to organize your cords.
28/50
TaoTronics Humidifier for Bedroom
A Cute Humidifier
This innocuous humidifier will look great wherever it's placed in her house. If she lives in an apartment, this device is a space saver too, due to its slender silhouette.
29/50
Ekouaer Long Sleeve Two-Piece Pajama Set
A Pair of Pajamas
With over 3,000 reviews, this might just be Amazon's most beloved pajama set. It's lightweight, super soft, and comfy. Plus, this teal color option for the set is new!
30/50
Ben-Amun Jewelry Earrings
A Pair of Earrings
This pair of gold-plated earrings comes in a fun, but wearable, geometric shape that incorporates natural minerals like this spotted stone. She'll use the accessory to dress up any work or date-night look.
31/50
Savvy Infusion Flip Top Fruit Infuser Water Bottle
A Fruit-Infuser Water Bottle
She never drinks enough water, so help make H20 more enticing by giving her this fruit-infused water bottle. Suddenly water doesn't taste so boring anymore.
32/50
Gymbee Booty 3 Resistance Bands for Legs and Butt Set
A Resistance Bands Set
She's a workout fanatic and actually does all the workout videos she pledges she'll do at home. Meanwhile, you can hardly do that 30-minute morning yoga session on YouTube. Gift her these resistance bands, since she'll put them to good use.
33/50
Wilton Navy Blue and Gold Measuring Cups
A Measuring Cup Set
For the baker, this 10-piece set will give her all the tools she needs to whip up banana bread, pumpkin chocolate chip cookies (opens in new tab), and more. Perhaps she'll show up at your place with said dessert goodies as a thank you.
34/50
Umbra Trigg Geometric Planter
A Pretty Pot
Her WFH desk needs some greenery, so gift her these geometric vessels (plants not included) to brighten up her working space. The plant pots are elegant and beautiful.
35/50
Smeg 2-Slice Toaster-Pink
A Retro Toaster
We love this retro-looking toaster, which comes in several colors, because it's the perfect statement piece to dress up your kitchen countertops. Making toast every morning just seems more fun now.
36/50
The Little Flower Soap Co Essential Oil Aromatherapy Gift Box
A Spa Day in a Box
This gift set is her one-stop-shop to setting up a spa day in the comfort of her own home. The box includes spa necessities such as bath salt, a rescue balm tin, and soap.
37/50
Rachael Ray Cucina Nonstick Cookware Pots and Pans Set
A Pots and Pan Set
A 12-piece pot and pans set to help any amateur cook start off on the right foot in the kitchen. It comes in several colors, though our pick is this teal blue color.
38/50
RP Minis Desktop Boxing: Knock Out Your Stress! (RP Minis)
A Stress Reliever
When she's feeling stressed about...life, she can take out her frustrations on this little punching bag target instead of on those around her. It's a win-win for everyone.
39/50
The Connecticut Home Company Faux Fur With Sherpa Reversible Throw Blanket
A Throw Blanket
It's always nice to have an extra throw blanket or two around the house, so she'll appreciate receiving another one. This one is particularly good for snuggling into and is machine washable.
40/50
Instant Pot 8-in-1 Electric Pressure Cooker
A Pressure Cooker
This cooker can make meals for up to six people, which is great if she has a big family. She'll have fun exploring the 13 one-touch smart programs that can make everything from soups to cake.
41/50
Magna Tiles 32-Piece Clear Colors Set
A Magnetic Building Set
For the friend or sibling who has kids, gift her these magna-tiles that will keep her little ones busy so she can have a moment of peace. The tiles are easy to spot and clean up because of their size.
42/50
HIWARE 12-Pack Reusable Stainless Steel Metal Straws
A Pack of Reusable Straws
For the eco-friendly gift recipient, stick this pack of reusable straws into her stocking. It also makes for a great little side gift to something else you're getting her from this list.
43/50
Ninja Personal Blender for Shakes, Smoothies, Food Prep
A Small Blender
She doesn't have space for a big blender, so gift her this personal size one that will still do everything she wants. This blender makes everything from smoothies to salsa.
44/50
Tea Drops Sweetened Loose Leaf Tea Drops Standard Sampler
A Tea Sampler
Tea that requires no extra packaging or fuss in opening. Simply drop in one of the shapes and then enjoy the sip.
45/50
Bee's Wrap Reusable Beeswax Food Wraps With Jojoba Oil
A Pack of Reusable Food Wrap
An alternative to plastic wrap anyone will appreciate. These reusable food wraps come in several sizes and is the kind of gift that doesn't leave a negative impact on this planet.
46/50
Keurig K-Cafe Coffee Maker
A Coffee Maker
Forget the local coffee shop. All she needs is this machine on her kitchen countertop to make her favorite lattes, cappuccinos, and beyond right at home.
47/50
Tanya Taylor 'Annaliese' Blazer Pink
A Pink Blazer
She doesn't shy away from wearing bright colors and now that she's working from home more than ever, she'll need to stand out on those Zoom calls. Gift her this feminine pink blazer and she'll have everyone's attention at the next meeting.
48/50
Lillie's of Charleston Hot Sauce Special Blend
A Bottle of Homemade Hot Sauce
Hot sauce lovers will never say no to another bottle, so stick this one in her stocking. It'll be delicious to douse on eggs, meats, and even vegetables.
49/50
Sage and Balm Acai Berry Vegan Lip Scrub
A Lip Scrub
Winter is harsh on the skin, especially the lips, so this scrub will make sure any dead skin is exfoliated away. For under $10, this lip scrubber is a steal.
50/50
Sam Edelman Tully Loafer Black
A Pair of Loafers
Everyone needs a pair of loafers in their closet and this one has a classic preppy style that can be dressed up with tights or simple wool socks. Pair this with the pink blazer and she'll be an unstoppable force in fashion.