Prince Harry and Meghan Markle Honor Australia's Anzac Day with a Special Service in London
It was very emotional.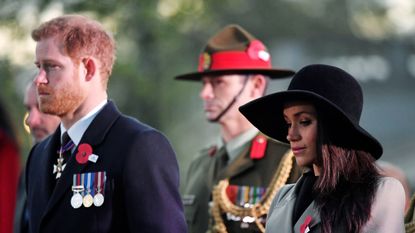 (Image credit: Getty Images)
Prince Harry and Meghan Markle are up early this morning for an important cause. On Wednesday, the royal couple commemorated Anzac Day—a national day of remembrance in Australia and New Zealand that commemorates those lost in war or sacrifice for their country.
Harry and Meghan were both somber and serious at the event. Harry wore his military ribbons and medals pinned to his coat. Meghan wore a black felt hat, a Gucci suede bag, a grey Smythe Pagoda trench coat from their Fall 2018 collection, and Sarah Flint black suede pumps.
In one video from the event, Harry even appears to be tearing up:
Video: Prince Harry and Meghan Markle at the Australian War Memorial #AnzacDay pic.twitter.com/7lPlfGs7JPApril 25, 2018
See more
The anniversary has been celebrated in London every April 25 since 1916, which marks the start of the First World War Gallipoli landings. The soon-to-be-royal-couple started the day with a special dawn service in Hyde Park where they visited the Australian memorial and signed a book of remembrance. Later they'll head to Westminster Abbey.
#PrinceHarry and #MeghanMarkle at today's moving dawn service to mark #AnzacDay pic.twitter.com/H4lUeTfmcBApril 25, 2018
See more
A better look as #PrinceHarry and #MeghanMarkle as they arrive at today's #AnzacDay service at Wellington Arch pic.twitter.com/eLXG7NZED5April 25, 2018
See more
With about three weeks until the wedding, Harry and Meghan continue to attend important engagements. Just two days ago, they attended Stephen Lawrence's memorial service to honor the 25th anniversary of his death and also welcomed their new nephew.
The Ultimate Meghan Markle Shopping Guide