The 26 Best Movies of 2020
Grab the popcorn.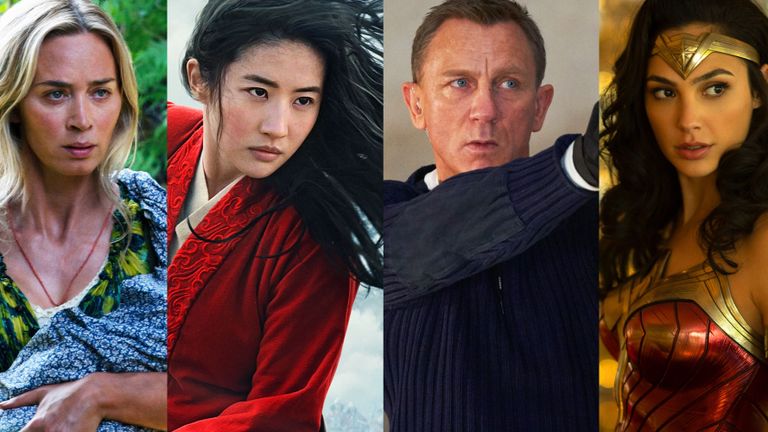 (Image credit: Paramount Pictures + Disney + MGM + Warner Brothers)
In spite of, well, everything else that happened in 2020, this year saw an exciting slate of new movies (and some more that saw their release dates get pushed to 2021—more on that in a minute). Among the best and most anticipated flicks of 2020 were some remakes/reboots (opens in new tab) (of course) as well as a few superhero movies (opens in new tab) (a Hollywood staple). But there were also some original ideas and big gambles (opens in new tab)—a nice (and necessary) balance of the nostalgic and the new.
Note: Many of these movies have been delayed because of the coronavirus pandemic, so we've updated the release dates accordingly. Which means, unfortunately, that some of the movies will be or have been pushed back to 2021. But we'll keep the films on here, since they were originally slated for 2020.
Bad Boys for Life
Release date: January 17, 2020
Starring: Will Smith, Martin Lawrence, Paola Núñez, Vanessa Hudgens, Alexander Ludwig, Charles Melton, Jacob Scipio, Kate del Castillo, Nicky Jam, and Joe Pantoliano
Why it's a big deal: Will Smith and Martin Lawrence reuniting to bring their iconic Miami detectives back to the big screen for the third installment of the Bad Boys trilogy? How can that not be a big deal?
Dolittle
Release date: January 17, 2020
Starring: Robert Downey Jr., Antonio Banderas, Michael Sheen, Jim Broadbent, Jessie Buckley, Harry Collett, Emma Thompson, Rami Malek, John Cena, Kumail Nanjiani, Octavia Spencer, Tom Holland, Craig Robinson, Ralph Fiennes, Selena Gomez, Marion Cotillard, and Kasia Smutniak
Why it's a big deal: Just look at that all-star cast list.
The Gentlemen
Release date: January 24, 2020, now streaming
Starring: Matthew McConaughey, Charlie Hunnam, Henry Golding, Michelle Dockery, Jeremy Strong, Eddie Marsan, Colin Farrell, Hugh Grant
Why it's a big deal: If critics collectively had one thing to say about this film, it's, "Oh thank God, Guy Ritchie is back." The iconic director's original stuff is terrific, his recent stuff...has its ups and downs. I really liked The Man from U.N.C.L.E., but King Arthur? Eurgh. Sherlock Holmes 2? Euuuuurgh. Alternatively, this film is the exact kind of madcap action Ritchie does best. Even if fast-paced action plus fun banter isn't really your thing, come for Matthew McConaughey—he's giving one of the best, most exciting performances of his career. Also, come for Henry Golding in a role that's the exact opposite of his Crazy Rich Asians heartthrob part. Hugh Grant's also hilarious in it, playing against type (I won't spoil it for you) and everybody's on their A-game. Just give it a shot, is what I'm saying. [Also, check the content warnings—there's some violence and sexual violence in here.]
Birds of Prey
Release date: February 7, 2020
Starring: Margot Robbie, Mary Elizabeth Winstead, Jurnee Smollett-Bell, Rosie Perez, Chris Messina, Ella Jay Basco, Ali Wong, and Ewan McGregor
Why it's a big deal: Margot Robbie's Harley Quinn was the breakaway star of 2016's Suicide Squad, so it only made since for Warner Bros. to give her a movie of her own. Even better though? Birds of Prey is jam-packed with some of the best female characters the DC Universe has to offer.
Sonic the Hedgehog

Release date: February 14, 2020
Starring: James Marsden, Ben Schwartz, Tika Sumpter, Natasha Rothwell, Adam Pally, Neal McDonough, and Jim Carrey
Why it's a big deal: For fans of the classic Sega game, this family-friendly film is a must-see. Plus, it's already gotten the green light for a sequel, due out in 2022, so you don't want to be behind when that hits theaters (assuming theaters are a thing again by then, of course).
Fantasy Island
Release date: February 14, 2020
Starring: Michael Peña, Maggie Q, Lucy Hale, Austin Stowell, Portia Doubleday, Jimmy O. Yang, Ryan Hansen, and Michael Rooker
Why it's a big deal: Loosely based on the classic fantasy TV series of the same name, this horror movie takes the show's basic concept—guests visit a mysterious island where they're promised their fantasies will come true—and takes it in a terrifying direction.
Emma
Release date: February 21, 2020, now streaming
Starring: Anya Taylor-Joy, Johnny Flynn, Josh O'Connor, Callum Turner, Mia Goth, Miranda Hart, Bill Nighy
Why it's a big deal: I confess: I went into this film a bit wary. As schmaltzy as the 1996 film is, I absolutely loved it. Gwyneth Paltrow and Jeremy Northam (my forever crush) are just so cute together! But I've never been happier to be wrong. A) Anya Taylor-Joy is so good in this—she says she was excited to prove to people she can actually act instead of being typecast forever in horror films. (She CAN.) B) Johnny Flynn as Mr. Knightley is super-hot and a great actor and you get to see his butt. C) Bill Nighy and Miranda Hart are the funniest, although frankly nearly everybody's funny in it (looking at you, Josh O'Connor and Mia Goth!). D) It makes you laugh and cry and think, and that's a perfect (opens in new tab) movie-watching experience.
The Call of the Wild
Release date: February 21, 2020

Starring: Harrison Ford, Omar Sy, Cara Gee, Dan Stevens, Karen Gillan, and Bradley Whitford
Why it's a big deal: Because, in 2020, we all need a good heartwarming dog movie, that's why.
The Invisible Man
Release date: February 24, 2020, now streaming
Starring: Elisabeth Moss, Aldis Hodge, Storm Reid, Harriet Dyer, Michael Dorman, Oliver Jackson-Cohen
Why it's a big deal: There have been some bad versions of The Invisible Man (Kevin Bacon, I love you, but NO). Unlike many of them, this film only pulls its concept from H.G. Wells' novels, but it gives it a modern punch...pun intended. A woman flees her abusive husband, who's an expert in optics. He seemingly kills himself...or is he somehow stalking her, invisible? I mean, you may know the answer already, judging by the trailer. But seriously: You should watch this. It's so harrowing—I was screaming into a pillow for a good chunk of it—and it has a lot of relevant stuff to say about gaslighting and trauma. The creators actually won't say how they did some of the special effects, so (like Moss) we can never totally be sure what's happening. It makes it a unique and terrifying watch.
A Quiet Place Part II
Release date: Originally March 20, 2020 now April 23, 2021
Starring: Emily Blunt, Cillian Murphy, Noah Jupe
Why it's a big deal: The first film was such a success, thanks in part to its creative and compelling concept. Seriously, movie theaters would fall completely silent, and the merest onscreen sound would become outlandishly terrifying. This one is also directed by Blunt's husband John Krasinski (is there anything he can't do?). Since the last film ended on a cliffhanger, I'm keeping my fingers crossed it will be an extension of the original that doesn't get boring.
Onward
Release date: March 6, 2020
Starring: Tom Holland, Chris Pratt, Julia Louis-Dreyfus, and Octavia Spencer
Why it's a big deal: Any time Pixar releases a movie, it's kind of a big deal. In this one, Tom Holland and Chris Pratt voice elf brothers who go on a journey to have one last day with their late father. No, you're crying.
Banana Split
Release date: March 27, 2020
Starring: Hannah Marks, Liana Liberato, Dylan Sprouse
Why it's a big deal: Did you like Booksmart? How about To All the Boys I've Loved Before (we're talking the original not the meh sequel)? Then you'll love this. Two girls become absolute BFFs, but what brings them together is that one of them just broke up with the same guy the other girl's dating. Relationship shenanigans ensue, but what I love so much about this is its non-judgmental look at young love, awkwardness, and friendship. Also, I was super impressed by Sprouse's performance—maybe it's because his haircut is terrible.
Mulan
Release date: Originally March 27, now September 4, 2020
Starring: Yifei Liu, Jet Li, Donnie Yen, Li Gong, Jason Scott Lee
Why it's a big deal: If you grew up with the original, like me, you're already locked and loaded into this new live-action version. I love that they've cast talented Chinese actors who, by the looks of it, are absolutely crushing the material. The fact that some of the classic Disney music plays softly in the background of the trailer will also hit your nostalgia button, hard.
The Lovebirds
Release date: Originally April 3, 2020, now May 22, 2020 on Netflix
Starring: Kumail Nanjiani, Issa Rae, Anna Camp
Why it's a big deal: The murder mystery is back, and I could not be more delighted. (I am an Agatha Christie obsessive.) This one has two of my favorite actors, Nanjiani and Rae in it and while the critical reaction was mixed, the common consensus was that the leads elevate it from okay to pleasantly watchable. The Big Sick director Michael Showalter is back directing Nanjiani, so be ready for a fun, sweet experience.
No Time to Die
Release date: Originally April 8, now April 2, 2021
Starring: Daniel Craig, Rami Malek, Naomie Harris, Ralph Fiennes, Ana de Armas, Lea Seydoux, Ben Whishaw, Rory Kinnear, Jeffrey Wright, Lashana Lynch
Why it's a big deal: If you or your S.O. is a Bond fan, you'll definitely want to watch this: it's the 25th film in the series; it's probably Daniel Craig's final Bond film; it's got True Detective's Cary Fukunaga directing; and it's jam-packed with stars, including Lashana Lynch as the first female 007. If you're not really into it, just sit back and enjoy everything exploding and a bunch of gorgeous actors, including up-and-comer Ana de Armas. Even if it doesn't end up making a ton of sense (like Quantum of Solace) it'll be a fun ride.
Trolls World Tour
Release date: April 10, 2020
Starring: Anna Kendrick, Justin Timberlake, Rachel Bloom, James Corden, Ron Funches, Kelly Clarkson, Anderson Paak, Sam Rockwell, George Clinton, and Mary J. Blige
Why it's a big deal: It pioneered the direct-to-VOD release model that many other movies had to follow in 2020 and with amazing songs and all-star voice talent, it's truly fun for the whole family (which is desperately needed when the whole family is stuck inside together for months on end).
The Half of It
Release date: May 1, 2020, on Netflix
Starring: Leah Lewis, Daniel Diemer, Alexxis Lemire, Collin Chou
Why it's a big deal: It's like a more serious Banana Split! Take a classic story (Cyrano de Bergerac, which you probably had to read in school), give it a modern spin (two teenagers in love with the same girl; one helps the other win her over) and put it in the hands of talented director Alice Wu, who's basing some of this on her own life. All the components come together beautifully, like some kind of perfect movie soufflé. It's also not just a romance. It dives into a beautifully drawn LGBTQ character and smartly tackles racial tension in small U.S.A. town. It undermines your expectations—the film's as much about the friendship between the two teens as it is about the object of their affection.
Black Widow
Release date: Originally May 1, 2020, now May 7, 2021
Starring: Scarlett Johansson, Florence Pugh, David Harbour, Rachel Weisz
Why it's a big deal: Please, please let this be good. The first Phase 4 Marvel movie is actually a prequel, but it'll give Scarlett Johansson her time to shine. Over the course of the franchise, she's become an important part of a sometimes-overstuffed universe, and fans hope the fact that she's technically (*spoiler alert*) dead post-Endgame won't mean this is the last we'll see of her. Not to mention, I love Midsommar's Florence Pugh, and I will watch Rachel Weisz and Chief Hopper in anything.
The Personal History of David Copperfield
Release Date: Originally May 8, 2020, now August 28, 2020
Starring: Dev Patel, Aneurin Barnard, Peter Capaldi, Hugh Laurie, Tilda Swinton
Why it's a big deal: How does one remake a classic Charles Dickens novel, giving it a modern boost without pissing off fans of the classic? With this film, apparently. Patel does so much with the role you can't envision anyone else playing it. And it's filled with funny people thoroughly enjoying their witty banter (Swinton and Laurie especially, but everyone's excellent). The film has already been released in the UK, and critics have raved over it, so I can't wait for it to head stateside.
The High Note
Release Date: May 29, 2020, direct to streaming

Starring: Dakota Johnson, Tracee Ellis Ross, Kelvin Harrison Jr., Zoë Chao, Bill Pullman, Eddie Izzard, Ice Cube, June Diane Raphael
Why it's a big deal: This is the perfect quarantine viewing, IMO: a little music, a lot of great performances, and the perfect dash of humor. Dakota Johnson (who talked about the film in detail for Marie Claire (opens in new tab)) is sweet and sardonic as Maggie, the personal assistant to Grace Davis (Tracee Ellis Ross, effervescent). Maggie dreams of being a music producer and hatches a plan with Grace to rejuvenate the latter's career; it will either make both of them wildly successful or flop in spectacular fashion. The supporting cast might be my favorite part, though. June Diane Raphael is my favorite comedic actor of all time, and it's always a joy to see Ice Cube.
Wonder Woman 1984
Release date: Originally June 5, now December 25, 2020 on HBO Max
Starring: Gal Gadot, Kristen Wiig, Chris Pine (!), Pedro Pascal
Why it's a big deal: I was worried that bringing back Chris Pine for this sequel felt a bit gimmicky when it was first announced (*spoiler alert*, he dies in the first film), but I'm digging the way it's being done: Smarmy villain Pascal does a "favor" for Diana so that he can do...something evil with crystals. TBD. Kristen Wiig is always a treat, and it's about time she got to play a super-villain.
Top Gun: Maverick
Release date: Originally June 26, now July 2, 2021
Starring: Tom Cruise (duh), Jennifer Connelly, Miles Teller, Jon Hamm, Val Kilmer, Jay Ellis, Monica Barbaro
Why it's a big deal: If you haven't watched the original, stop reading, go watch, come back. Everyone ready? This OTT flick, which is both a classic and a parody of itself (opens in new tab), has been honored and satirized for more than 30 years now. So, at least for fans of the original, this is probably the most anticipated movie of the year. But, if you weren't a fan or have no clue what I'm talking about, it's a pretty sure thing that a lot of care will be taken to make this good. It's probably worth a watch, no matter what.
In the Heights
Release date: Originally June 26, 2020, now June 18, 2021
Starring: Lin-Manuel Miranda, Anthony Ramos, Dascha Polanco, Marc Anthony, Jimmy Smits, Melissa Barrera
Why it's a big deal: While Lin-Manuel Miranda became a household name for Hamilton, it was his musical In the Heights that gained him recognition on the Broadway stage in 2008. (The play, for which he penned the music and lyrics, earned him a Tony nod.) Now Miranda, alongside screenwriter Quiara Alegría Hudes, have adapted the musical to the big screen. And, trust me, you won't want to miss it. Based on Washington Heights in Manhattan, it tells the story of a community that comes together to support the Dreamers. It's also directed by Jon M. Chu, who helmed Crazy Rich Asians. The trailer's toe-tappingly catchy, which means the film will probably have you dancing in the aisles (or in your living room, depending on where you'll be able to watch).
Hamilton

Release date: July 3, 2020, on Disney Plus
Starring: Lin-Manuel Miranda, Phillipa Soo, Leslie Odom Jr., Daveed Diggs, Renée Elise Goldsberry, Jonathan Groff, Chris Jackson
Why it's a big deal: Speaking of Miranda, his award-winning retelling of the Founding Fathers, using one of the most diverse casts in Broadway history, is now available to stream. If the timing is confusing to you, the play Hamilton came out AFTER Miranda became known for the play version of In the Heights, even though this is being released first. (Fans would love a movie adaptation of Hamilton, but TBD on that.) This recording of the original cast promises to be even better than front-row seats. In it, viewers go directly on stage to witness the epic, sometimes spitty (opens in new tab) performances. For so many people who wanted to watch but missed out on tickets, the show is making new fans and sparking important dialogue (opens in new tab). It's particularly relevant in this moment and a must-watch.
The Old Guard
Release date: July 10, 2020, on Netflix
Starring: Charlize Theron, KiKi Layne, Matthias Schoenaerts, Chiwetel Ejiofor, Marwan Kenzari, Luca Marinelli
Why it's a big deal: The on-screen adaptation of the comic series (opens in new tab) is incredibly faithful to the concept: Warriors, functionally immortal and led by the 7,000-year-old Andy (Theron), try to enact quiet good in the world without drawing attention to themselves. It does not work—hence the film's plot, in which a pharma exec hopes to steal their secret to longevity. The action film is a perfect summer stream. Come for the fight sequences, terrific performances (opens in new tab) and often-witty dialogue; stay for the adorable gay relationship between two main characters.
Palm Springs
Release date: July 10, 2020 on Hulu
Starring: Andy Samberg, Cristin Milioti, Peter Gallagher, and J. K. Simmons
Why it's a big deal: Groundhog Day at a destination wedding is a great concept any time, but in 2020, when real life has felt like Groundhog Day, it really hits the spot.
Tenet
Release date: Originally July 17, then September 3, 2020
Starring: John David Washington, Robert Pattinson, Kenneth Branagh, Michael Caine, Elizabeth Debicki, Karon Taylor-Johnson, Himesh Patel
Why it's a big deal: Everybody knows Christopher Nolan at this point, and even when his ideas don't toooootally work (Interstellar), he's never boring. Tenet is about, um, definitely time travel, something about World War III, and...reincarnation? I dunno. Seems about right for Nolan. John David Washington and Robert Pattinson seem like the perfect actors to help make sense of the weird, surreal subject matter. I still don't know if I fully understood Inception, but it's one of my favorite movies, so I'm hoping this becomes a new Nolan fave. The creators originally very much wanted this to open in theaters, but because of the pandemic it may have a more "flexible" release.
The Secret: Dare to Dream
Release date: July 31, 2020
Starring: Katie Holmes, Josh Lucas, Jerry O'Connell, and Celia Weston
Why it's a big deal: Because, TBH, we love anything Katie Holmes does.
The New Mutants
Release date: August 28, 2020
Starring: Maisie Williams, Anya Taylor-Joy, Charlie Heaton, Alice Braga, Blu Hunt, and Henry Zaga
Why it's a big deal: Honestly, it's just a big deal that this movie finally made it to a release date without being delayed. Long before COVID-19, New Mutants had been subjected to several pushbacks (it was originally set for a 2018 release before being moved back on the calendar multiple times).
I'm Thinking of Ending Things
Release date: September 4, 2020 on Netflix
Starring: Toni Collette, Jesse Plemons, David Thewlis, Jessie Buckley
Why it's a big deal: Charlie Kaufman—famous for writing trippy films like Being John Malkovich and Eternal Sunshine of the Spotless Mind—directs this upcoming film. It's based off of the psychological thriller novel of the same name by Ian Reid, and will feature rockstars Toni Collette (criminally overlooked by the Oscars in Hereditary) and Jesse Plemons (the best thing about Fargo season 2 and a scene-stealer in Game Night). If you're not familiar with the plot, let's just say it's the perfect material for Kaufman and every bit as surreal as Eternal Sunshine. Don't read the spoilers! Just add it to your list of must-watch films and get ready to be totally creeped out.
Enola Holmes
Release date: September 23, 2020 on Netflix
Starring: Millie Bobby Brown, Sam Claflin, Henry Cavill, and Helena Bonham Carter
Why it's a big deal: This whip-smart movie based on the hit YA series of the same name follows Sherlock Holmes' unsung little sister, Enola, who turns out to be just as amazing a sleuth as her older brother.
The Many Saints of Newark
Release date: Originally September 25, 2020, now March 12, 2021

Starring: Michael Gandolfini, Vera Farmiga, Jon Bernthal, Ray Liotta, Corey Stoll, Billy Magnussen
Why it's a big deal: The Sopranos was so much to so many people: intense, spellbinding, surprisingly funny, with a maddening ending on top of that. This prequel, of Tony Soprano as a young gangster, has the same creator as the show and will feature the late James Gandolfini's son in the titular role (I'm not crying, you are). Expect lots of homages and Easter eggs, but it should still be a good movie in its own right. I've said it before, and I'll say it again: Finish the TV series series now so you'll be caught up before the film drops.
Death on the Nile
Release date: October 9, 2020, then removed from the release calendar indefinitely.
Starring: Gal Gadot, Armie Hammer, Kenneth Branagh, Rose Leslie, Annette Bening, Emma Mackey
Why it's a big deal: Exhibit B for the murder mystery having a resurgence in big box office hits? This is a Christie classic. Critics will probably compare it to Murder on the Orient Express, but this has a much better setup: a frothy murder mystery with a masterful love triangle right in the middle of it. A spoiled woman steals her BFF's fiancé and spurned BFF won't stop following the new couple around, promising to kill them. (Spoiler alert) Spoiled woman dies but the BFF has a rock-solid alibi. So what happened? No spoilers, just watch.
Death on the Nile
Release date: October 16, 2020, then moved to September 25, 2020 on Netflix
Starring: Eddie Redmayne, Alex Sharp, Sacha Baron Cohen, Jeremy Strong, John Carroll Lynch
Why it's a big deal: Aaron Sorkin may be somewhat hit or miss in terms of success rate on his creations (The Social Network is a classic, but The Newsroom left a LOT of people mad), but he's the best writer around if you're looking for snappy TV and movie dialogue. So this courtroom drama about seven men charged for inciting anti-Vietnam war protests at the 1968 DNC conventions should be right up his ally (ideally, I'm hoping for A Few Good Men crossed with The West Wing).
The French Dispatch
Release date: October 16, 2020, now pushed to an unannounced date in 2021
Starring: Frances McDormand, Bill Murray, Timothée Chalamet, Léa Seydoux, Saoirse Ronan, Owen Wilson, Benicio del Toro, Adrien Brody, Tilda Swinton, Lyna Khoudri, Jeffrey Wright, Mathieu Amalric, Steve Park
Why it's a big deal: If you're familiar with Wes Anderson, chances are you've got a favorite (mine's Life Aquatic, thanks for asking!). But regardless of which one made you love the quirky, sweet director, there'll be something for you to enjoy in this. That's mainly because a bunch of his favorite actors are in here—Murray, Wilson, Brody, for starters—plus some faces that are new to his oeuvre: Wright (amazing) and Chalamet (he gets naked in the trailer!). The trailer's already bursting at the seams with plots and characters, but the beauty of Anderson is that you know he'll be able to tie it all together.
Eternals
Release date: Originally November 6, 2020, now November 5, 2021
Starring: Angelina Jolie, Salma Hayek, Richard Madden, Kit Harington, Kumail Nanjiani, Gemma Chan, Brian Tyree Henry, Lauren Ridloff
Why it's a big deal: This is the second Marvel film on my list, but bear with me. I mean, just look at the cast! Kumail Nanjiani (this film is the reason he got so ripped (opens in new tab)), Angelina Jolie, and Salma Hayek are just a few of the big-name actors attached to the project. Oh, and Robert Madden and Kit Harington? It's a Stark reunion!! (Sorry, non-Game of Thrones fans.) This also promises to be an unusual kind of film for Marvel: The Eternals are an ancient alien race who originated thousands of years ago and live in hiding on Earth. So it's not just a carbon copy of Avengers. I promise.
Hillbilly Elegy
Release date: November 11, 2020, then November 24, 2020 on Netflix
Starring: Amy Adams, Glenn Close, Gabriel Basso, Haley Bennett, Freida Pinto, Bo Hopkins, and Owen Asztalos
Why it's a big deal: The drama, based on the hit 2016 memoir of the same name, has Academy Awards potential written all over it.
Freaky
Release date: November 13, 2020
Starring: Vince Vaughn, Kathryn Newton, Katie Finneran, Celeste O'Connor, Misha Osherovich, and Alan Ruck
Why it's a big deal: It takes the classic, Freaky Friday-style body swap movie and makes it a hilarious comedy slasher. How, you wonder? By having a high school girl inadvertently switch bodies with a middle aged serial killer (played by Vaughn).
Dune
Release date: December 18, 2020, now October 1, 2021
Starring: Timothée Chalamet, Zendaya, Oscar Isaac, Josh Brolin, Rebecca Ferguson, Javier Bardem, Jason Momoa, Dave Bautista
Why it's a big deal: This epic remake has so, so many stars. Denis Villeneuve (who also directed Blade Runner 2049, which I thought was better than the original) is the film's writer and producer here, too. This movie has been known to be famously tough to adapt, and the last go-round was a huge financial flop—even though it's kind of become a cult classic. In the right hands, it could be a cool, deeply strange, CGI take on the 1965 novel. And honestly, even if the plot's long and confusing, it's guaranteed to be stunning. Plus, Chalamet. End of sentence.
West Side Story
Release date: December 18, 2020, now December 10, 2021
Starring: Ansel Elgort, Rita Moreno, Rachel Zegler, Maddie Ziegler
Why it's a big deal: Released on the exact same day as Dune (originally primed for a box office battle, but TBD if the release dates will remain as they are), West Side Story is the rare remake I'm excited about. Stephen Spielberg has wanted to take on the material for years, and the classic musical is both timeless and deserving of an update. Ansel Elgort stars in it, although Spielberg also cast an impressive number of stars who aren't as well-known yet. Rita Moreno, who captivated in the original, is also a cast member. If you have no idea what the plot is and you've never heard the music before, then I'm REALLY excited for you. All I'll say is it's a more modern-day take on Romeo and Juliet, and you should go watch it.

For more stories like this, including celebrity news, beauty and fashion advice, savvy political commentary, and fascinating features, sign up for the Marie Claire newsletter.
SUBSCRIBE HERE (opens in new tab)
RELATED STORIES
Katherine's a Boston-based contributor at Marie Claire who covers fashion, culture, and lifestyle—from "The Bachelor" to Everlane to Meghan Markle. Igoe: "I go to the store," not "Her huge ego."