29 Cute Fall Outfit Ideas for 2023
Stylish autumnal looks that require little to no effort.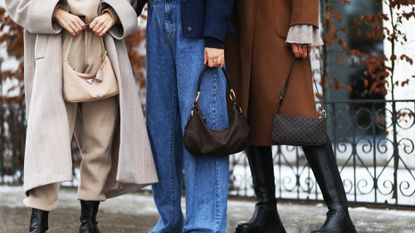 (Image credit: Jeremy Moeller)
If summer is for showing off how great you look without a lot of clothing, fall is for demonstrating what you can do with your wardrobe. It's time to burrow into your oversize fuzzy sweaters and wear the same pair of blue jeans Monday-Friday. Fall fashion means figuring out how to layer without looking like an overstuffed penguin, and for revisiting your favorite transitional-weather gear, from chunky ankle boots to classic trench coats. We're going to show you how to easily recreate street style stars' fall outfits with minimal effort.
Brooke Knappenberger is the Editorial Fellow at Marie Claire, where she writes across the board from fashion and beauty to books and celebrities. As a pop culture junkie, Brooke obsessively consumes and writes about the latest movie releases, streaming TV shows, and celebrity scandals. She has over three years of experience writing on fashion, beauty, and entertainment and her work has appeared on Looper, NickiSwift, The Sun US, and Vox Magazine of Columbia, Missouri. Brooke obtained her Bachelor's Degree in Journalism from the University of Missouri's School of Journalism with an emphasis on Magazine Editing and has a minor in Textile and Apparel Management.