The 12 Most Romantic Movie Scenes of All Time
In the mood for a love story? We re-watched our favorite on-screen romances to pick only the most gush-worthy, heart-swooning moments.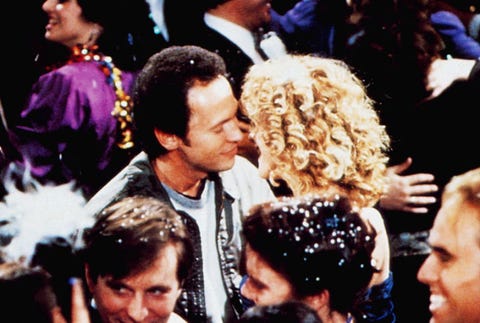 When Harry Met Sally
Will they ever realize that they're perfect for each other?! When Harry finally declares his true love for Sally (in a hilariously self-deprecating speech in which he mentions the crinkle above her nose, among other things) at the end of this classic rom-com, their long history and crazy cuteness is enough to make even the most cynical and un-romantic among us tear up.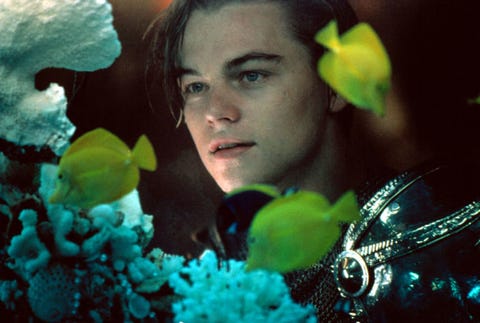 Romeo + Juliet
You may have never thought a fish tank could be romantic, but doomed couple Romeo and Juliet's flirtatious first meeting through the glass makes it happen. Maybe it's the sexy soundtrack by Des'ree (or is it young Leo's irresistible grin?) but, suddenly, we want an aquarium of our own.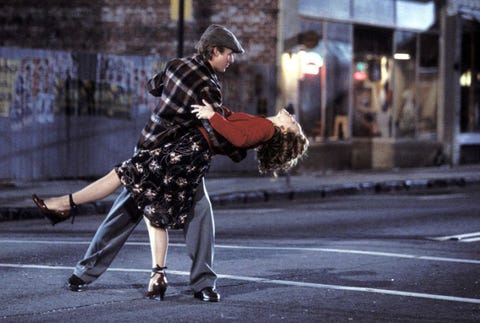 The Notebook
From Noah scaling the side of a Ferris wheel in an effort to get Allie's attention to watching the two characters recognize the strength of their love generations later, this movie is packed with heart-flutteringly incredible loves scenes — so many that it's impossible to choose just one.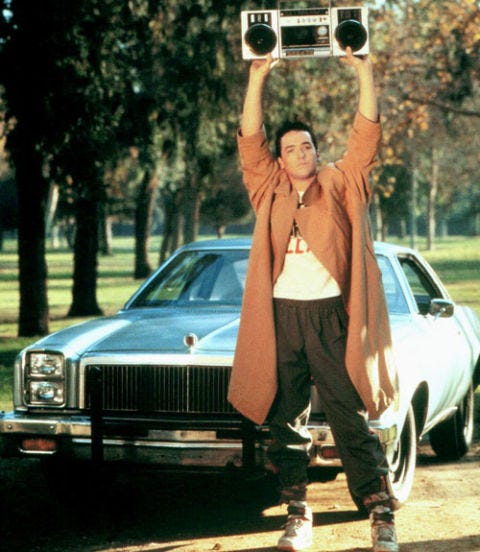 Say Anything
The minute John Cusack hoisted that boom box over his shoulders in a desperate serenade to win over the girl of his dreams, he forever set the bar for romantic teen heroes. The scene came to define the anguish of true, modern love and is now one of the most iconic images ever filmed — at least for those of us with an appreciation for '80s cinema.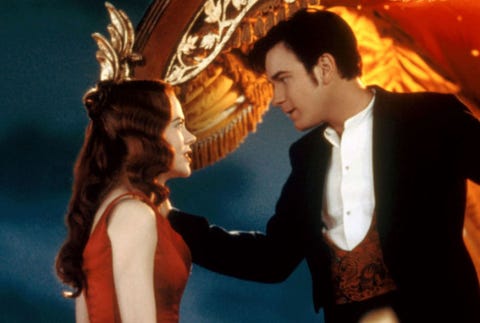 Moulin Rouge!
Glamorous courtesan Satine never dreamed she would fall in love with a poor, lowly writer — that is, until Christian wins her over with the most epic love-song melody ever. Take a bit of Elton John and U2, add in fireworks and the Paris skyline, and you're practically guaranteed romance.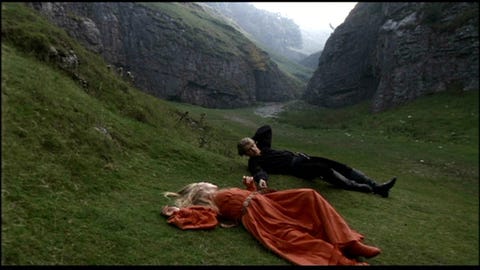 The Princess Bride
In all its over-the-top, campy glory, the story of Buttercup and Wesley is undeniably romantic: Two lovers are torn apart, and he must fight against all odds to win her back. We particularly cherish the moment when Buttercup realizes that her long-lost love — whom she believed to be dead — is actually alive, well, and holding her in his arms ... all with the words, "As you wish."
Casablanca
In one of the most beautiful and heart-breaking on-screen love stories ever, the ethereal Ingrid Bergman and debonair Humphrey Bogart play star-crossed lovers who are reunited in Casablanca after years apart. Perfect! The catch? She's married. At the end of the film, we want so badly for Rick and Ilsa to be able to stay together, but Bogart is just too much of a gentleman.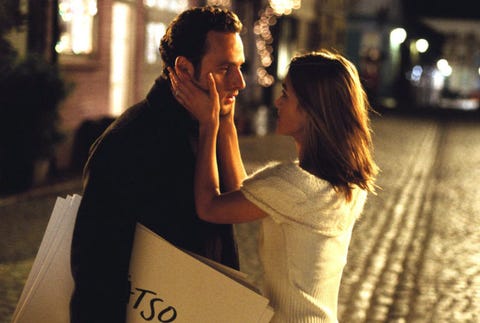 Love Actually
Sure, the morality of the scene is questionable — she's a newlywed, and he's her husband's best friend — but Mark's declaration of love via posterboard at Juliet's front door during a snowy night is undeniably romantic, even if we — and they — know they'll never end up together.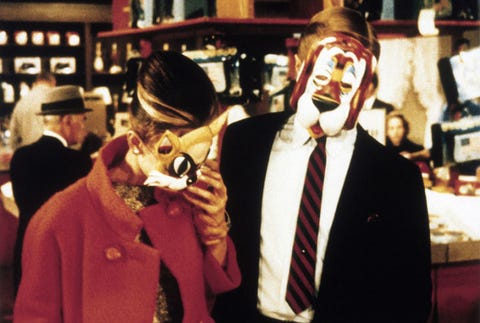 Breakfast at Tiffany's
Although we would never put shoplifting on our list of first-date suggestions, somehow Audrey Hepburn and George Peppard make it seem adorable. Watching the elegant duo sneak around a toy store wearing matching animal masks, then burst into laughter once they've made off with their loot, it's nearly impossible not to yell at the screen: "Holly, get over yourself! He's the one!"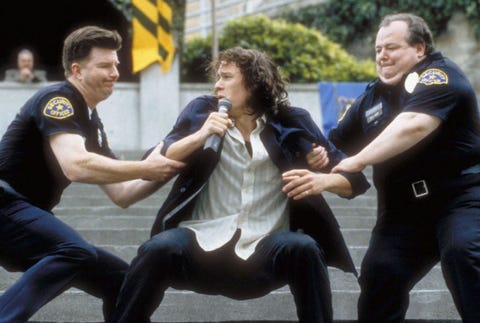 10 Things I Hate About You
Seeing bad boy Heath Ledger ham it up with a goofy rendition of "Can't Take My Eyes Off of You" could melt anyone's heart. The fact that he artfully dodges school security while doing so makes it all the more sweet.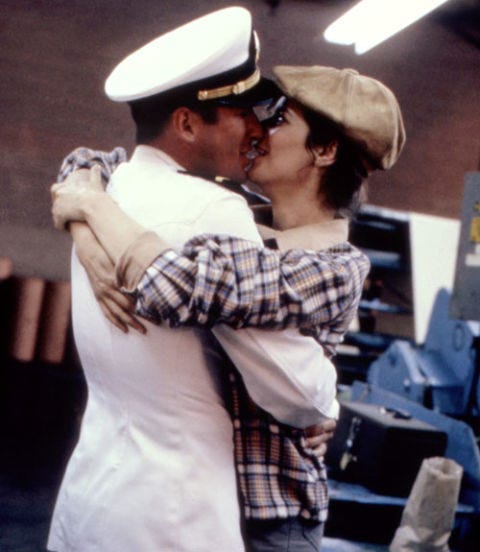 An Officer and a Gentleman
It's one of the greatest takes on the oft-abused Prince-Charming-on-a-white-horse storyline: When Richard Gere appears in uniform, swings Debra Winger into his arms, and carries her out of the factory where she's been working, you'll suddenly remember the idealistic, fairytale-believing little girl you once where.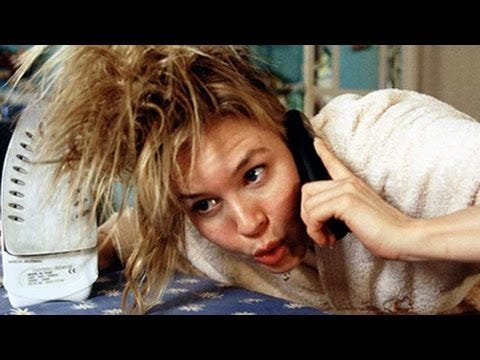 Bridget Jones's Diary
The ultimate single girl, the title character's wacky escapades and propensity for hilarious misunderstandings remind us a lot of … well, ourselves. When Mark Darcy crosses the Atlantic just to tell Bridget that he's come back because he's "forgotten to kiss her goodbye," it's impossible not to believe that there's a man out there who loves us, just the way we are.
This content is created and maintained by a third party, and imported onto this page to help users provide their email addresses. You may be able to find more information about this and similar content at piano.io