The New Movies Released to Stream Early Amid the Coronavirus Pandemic
Quarantine and stream.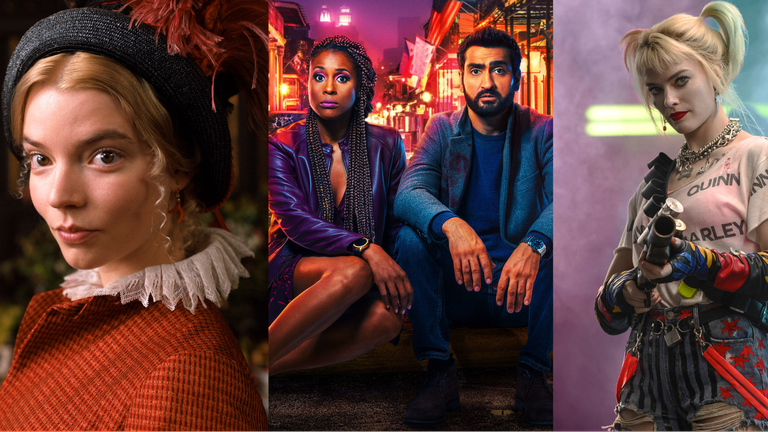 (Image credit: Focus/Paramount/WB)
As theaters nationwide shut down in compliance with CDC recommendations in an effort to halt the spread of coronavirus, many film studios, including Universal, Warner Brothers, and Disney, are releasing movies early for digital streaming. From new thrillers to rom-coms, action to drama, your all-day quarantine binge just got a little more exciting.
If you put on real pants today (unlikely), it's time to change into sweats, pop the popcorn, and turn off the lights. We've rounded up the must-see movies to stream from your couch, bed, or bathtub (we don't judge).
The Invisible Man
Starring: Elisabeth Moss, Oliver Jackson-Cohen
What it's about: After escaping her abusive, tech-mogul boyfriend, Cecilia (Moss) finally starts to feel safe— that is, until her ex apparently kills himself and Cecilia begins to get terrorized by an invisible being (who she knows is somehow her ex). As Cecilia fights to prove it's not all in her head, she also must fight for her life.
Rent it for $20 on Amazon, Apple, Fandango Now, Google Play, Vudu, or YouTube.
Emma
Starring: Anya Taylor-Joy, Johnny Flynn, Josh O'Connor, Bill Nighy
What it's about: In the mood for a lush period drama? Based on the iconic Jane Austen novel of the same name, this iteration stars Anya Taylor-Jay as matchmaker Emma Woodhouse. The film was originally out in theaters on February 21 and will stream early, to the delight of all of us Austen stans.
Rent it for $20 on Amazon, Apple, Fandango Now, Google Play, Vudu, or YouTube.
Frozen 2
Starring: Your favorite sisters, Elsa (Idina Menzel) and Anna (Kristen Bell)
What it's about: Disney released this magical film a full three months early. In this sing-along sequel, Elsa and Anna must save their kingdom, Arendelle, by solving a mystery from the past. Sometimes, a comfort Disney movie is just what you need.
Watch is on Disney+, or rent it on Amazon and iTunes.
The Hunt
Starring: Betty Gilpin, Emma Roberts, Hilary Swank
What it's about: In this satirical political thriller, rich, liberal-leaning Americans hunt "deplorables" to the death. The film is not without controversy: it was originally due out in September, but was pulled in the wake of two mass shootings, so viewer discretion is advised.
Rent it for $20 on Amazon, Apple, Fandango Now, Google Play, Vudu, or YouTube.
Star Wars: Rise Of Skywalker
Starring: Daisy Ridley, Adam Driver, Carrie Fisher, Mark Hamill
What it's about: The final installment of the latest Star Wars franchise finds Rey (Ridley) and Kylo Ren/ Ben Solo (a dreamy Adam Driver) at odds once again as they struggle to fight for balance in the galaxy— and beat a common enemy.
Watch it on Disney+, or rent it on Prime Video, Vudu, Google Play, FandangoNow or iTunes.
The Lovebirds
Starring: Issa Rae, Kumail Nanjiani
What it's about: Skipping its theatrical release due to the pandemic and going straight to Netflix instead, this comedy is exactly what we need right now. A couple (Rae and Nanjiani) try to solve a murder that they are inadvertently involved in. But, like, in a hilarious way.
Watch it on Netflix starting April 3.
Birds of Prey
Starring: Margot Robbie, Rosie Perez, Mary Elizabeth Winstead, Jurnee Smollett-Bell
What it's about: After breaking up with the Joker, Harley Quinn (Robbie) recruits a badass, all-female group of anti-heroes to protect Gotham from a vengeful crime lord. Watch this one with your squad over Skype.
Will be available for digital purchase starting March 24.
Onward
Starring: Tom Holland, Chris Pratt
What it's about: Need to escape reality? In this new Pixar release, Holland and Pratt voice a pair of brother elves on a quest to bring their dad back from the dead for one day.
Will be available on demand March 20; streaming on Disney+ starting April 3.
Bloodshot
Starring: Vin Diesel, Eiza González
What it's about: After he's murdered, U.S. Marine Ray Garrison (Diesel) is resurrected by a team of scientists. With superpowers. Obviously. Insert biggest comeback ever here. Based on the Valiant Comics series, Bloodshot is the action-packed answer to an otherwise boring day indoors.
Available for purchase on on demand starting March 24.
The Gentleman
Starring: Matthew McConaughey, Charlie Hunnam, Colin Farrell, Hugh Grant
What it's about: It's Matthew McConaughey like you've never seen him before (Read: A criminal instead of a happy-go-lucky heartthrob). In this crime drama, he plays a kingpin trying to sell his marijuana business.
Buy it on Amazon Prime Video.
The Way Back
Starring: Ben Affleck, Al Madrigal, Michaela Watkins
What it's about: In this inspiring sports drama, a struggling alcoholic (Affleck) coaches a high school basketball team. I'm not crying, you're crying.
Watch it on Amazon Prime Video, iTunes, or Google Play.
Sonic the Hedgehog
Starring: Ben Schwartz, Jim Carrey, James Marsden
What it's about: Feeling low on energy at home? Watch this. The lead character is a power-charged action hero, packaged in a super cute animated hedgehog. Also, James Marsden is in it, so...
Watch from March 31 on iTunes, Google Play, or Amazon Prime Video.
---
For more stories like this, including celebrity news, beauty and fashion advice, savvy political commentary, and fascinating features, sign up for the Marie Claire newsletter.
Related Stories
Megan DiTrolio is the editor of features and special projects at Marie Claire, where she oversees all career coverage and writes and edits stories on women's issues, politics, cultural trends, and more. In addition to editing feature stories, she programs Marie Claire's annual Power Trip conference and Marie Claire's Getting Down To Business Instagram Live franchise.