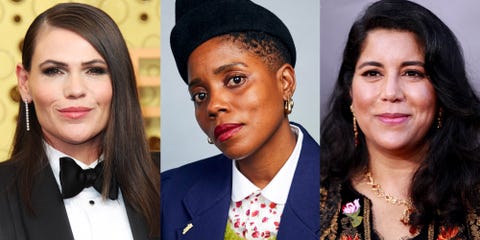 Even if the major award shows continue to fail to recognize the movies and television shows directed by women, we sure as hell won't. These 29 picks are just some of the eagerly anticipated new films that will be released in 2020 and are directed by women, from big names like Clea DuVall to up-and-comers just breaking into the game. From a movie about a group of women taking down the Miss World pageant to the sequel to Wonder Woman, sit back and enjoy our list of the most exciting women-directed films of the year—so far.

'Covers,' directed by Nisha Ganatra
Release Date: May 8
Starring: Dakota Johnson, Tracee Ellis Ross, Ice Cube, Bill Pullman, June Diane Raphael

What's it about: It's a romance movie set in the Los Angeles music world. Ganatra also directed Late Night with Mindy Kaling and Emma Thompson, so be ready for a lot of laughs.

'Candyman,' directed by Nia DaCosta
Release Date: June 12

Starring: Yahya Abdul-Mateen II, Tony Todd, Colman Domingo, Teyonah Parris

What's it about: It's a sequel to the 1992 film that probably gave you nightmares at some point. The film will still take place in Chicago, and the famous hooked-handed boogeyman continues to haunt the Cabrini-Green housing projects.

Marvel's 'Eternals,' directed by Chloe Zhao
Release Date: November 6

Starring: Angelina Jolie, Richard Madden, Salma Hayek, Kumail Nanjiani, Kit Harington, Gemma Chan

What's it about: The Eternals are a group of aliens who have been living on Earth in secret for thousands of years. After all the drama that went down in Avengers: Endgame, they've been forced to come out of hiding to go against their greatest enemies, the Deviants.

'Happiest Season,' directed by Clea DuVall
Release Date: November 25
Starring: Kristen Stewart, Mackenzie Davis, Dan Levy, Alison Brie, Aubrey Plaza, Jake McDorman
What it's about: A woman (Stewart) shows up to her family's holiday party on a mission to propose to her girlfriend (Davis.) Unfortunately, she finds out her partner hasn't yet come out to her conservative parents.
Release Date: TBD
Starring: Jennifer Lopez, Owen Wilson, Sarah Silverman, Maluma

What's it about: The movie is based on the graphic novel by Bobby Crosby that tells the story of a pop star (Lopez) who finds out just moments before walking down the aisle at Madison Square Garden that her fiancé (Maluma) is cheating on her. So, naturally, the only logical response is to pick a random man (Wilson) from the crowd and get hitched with him instead.

'Shirley,' directed by Josephine Decker
Release Date: TBD
Starring: Logan Lerman, Elisabeth Moss, Michael Stuhlbarg, and Odessa Young

What's it about: This drama was nominated for the Grand Jury Prize at this year's Sundance Film Festival. It tells the story of a famous horror story writer (Moss) who finds herself finding inspiration for her next book from the couple that she and her husband have just taken in.

'The Glorias,' by Julie Taymor
Release Date: TBD
Starring: Julianne Moore, Alicia Vikander, Bette Midler, Janelle Monáe

What's it about: It's a biopic about feminist icon Gloria Steinem. The story will follow a similar narrative as her New York Times bestselling autobiography, My Life on the Road.

'On The Rocks,' directed by Sofia Coppola
Release Date: TBD
Starring: Bill Murray, Jenny Slate, Rashida Jones, Marlon Wayans, Jessica Henwick
What's it about: The comedy-drama follows a young mom (Jones) who reconnects with her playboy dad (Murray) for an adventure through New York.
'The Old Guard,' directed by Gina Prince Bythewood
Release Date: TBD
Starring: Charlize Theron, Marwan Kenzari, Kiki Layne, Chiwetel Ejiofor

What's it about: Based on the comic book series by Greg Rucka and illustrator Leandro Fernández, Netflix's The Old Guard follows a group of immortal soldiers who have been hiding in secret for many years. When they discover a new immortal, the group realizes they aren't alone, and that might be a very bad thing.

'Zola,' directed by Janicza Bravo
Release Date: TBD
Starring: Taylour Paige, Riley Keough, Colman Domingo, Nicholas Braun

What's it about: The film is based on an insane 148-tweet thread that went viral in 2015 about two sex workers, a road trip to Florida, and the chaos that followed. The film premiered at Sundance in January 2020 and apparently has a mix of Spring Breakers and Hustlers energy. I can't wait.
'The Half Of It,' by Alice Wu
Release Date: TBD
Starring: Leah Lewis, Daniel Diemer, Alexxis Lemire, Becky Ann Baker

What's it about: Netflix's next teen rom-com tells the story of a high school football star who hires Ellie, the shy, smart girl, to help him win over the girl he's crushing on. It seems simple right? Well, Ellie also has a crush on the same girl.

'Kajillionaire,' directed by Miranda July
Release Date: TBD
Starring: Evan Rachel Wood, Gina Rodriguez, Debra Winger, Richard Jenkins

What's it about: When a family of con artists invites a kind newbie into the mix (Rodriguez), their youngest daughter starts to see that maybe a life of crime isn't her destiny.
...
For more stories like this, including celebrity news, beauty and fashion advice, savvy political commentary, and fascinating features, sign up for the Marie Claire newsletter