29 Exciting New Movies Directed by Women
The Academy, please take note.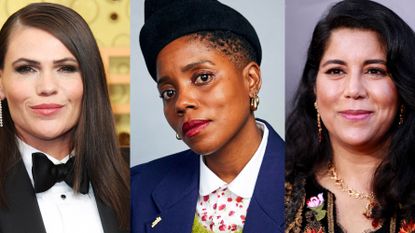 (Image credit: Getty/Shuttershock)
Even if the major award shows continue to fail to recognize the movies and television shows directed by women, we sure as hell won't. These 29 picks are just some of the eagerly anticipated new films that will be released in 2020 and are directed by women, from big names like Clea DuVall to up-and-comers just breaking into the game. From a movie about a group of women taking down the Miss World pageant to the sequel to Wonder Woman, sit back and enjoy our list of the most exciting women-directed films of the year—so far.
'The Turning,' directed by Floria Sigismondi
Release Date: January 24
Starring: Mackenzie Davis, Finn Wolfhard, Brooklynn Prince

What it's about: Sigismondi's movie is a modern-day re-telling of the Henry James novel, The Turn of the Screw. The story follows a governess starting a new job at a very creepy mansion. She'll be in charge of two children who mysteriously lost their parents. Let's just say these kids aren't exactly angels.
'The Rhythm Section,' directed by Reed Morano
Release Date: January 31
Starring: Blake Lively, Jude Law, Sterling K. Brown
What it's about: From the same director of Hulu's Handmaid's Tale comes this action thriller of a woman (Lively) who is out to seek revenge on the bad guys who were behind the plane crash that killed her family.
'Birds of Prey,' directed by Cathy Yan
Release Date: February 7
Starring: Margot Robbie, Mary Elizabeth Winstead, Ewan McGregor
What it's about: Consider it a sequel of sorts to the 2016 film Suicide Squad. Except, in this story, Harley Quinn has broken up with the Joker, and she's ready to fight the bad guys on her own, along with the help of some more women.
'The Lodge,' directed by Veronika Franz and Severin Fiala
Release Date: February 7
Starring: Richard Armitage, Riley Keough, Alicia Silverstone

What it's about: Two kids and their soon-to-be stepmom are snowed in during a lodge getaway in the middle of nowhere after the kid's father is whisked away on business. The group seems to be trucking along fine...until some peculiar things start happening out of their control.
'The Photograph,' directed by Stella Meghie
Release Date: February 14
Starring: Issa Rae, Chelsea Peretti, Courtney B. Vance, LaKeith Stanfield, and Y'lan Noel
What it's about: When the famous photographer mom of Mae (played by Rae) dies unexpectedly, Mae finds in the photographs from her mom's past a romance she never knew about. As she uncovers her mom's history, she finds herself falling in love with the journalist tasked to write about her mother's legacy.
'The Last Thing He Wanted,' directed by Dee Rees
Release Date: February 21
Starring: Anne Hathaway, Ben Affleck, Willem Dafoe, Rosie Perez
What's it about: Based on the Joan Didion novel (opens in new tab) of the same name, this story follows a war journalist who finds out that the story she's trying to break might hit closer to home than she realizes.
'Emma,' directed by Autumn de Wilde
Release Date: February 21
Starring: Anya Taylor-Joy, Bill Nighy, Johnny Flynn, Mia Goth, Miranda Hart, Josh O'Connor
What's it about: Jane Austen lovers rejoice: It's a brand-new retelling of one of the writer's most beloved stories, Emma. If you're unfamiliar with the plot line, it's about a queen bee who likes to play matchmaker despite not being able to find a love for herself. And if you're still lost, the 1995 film Clueless is based on the same Austen novel.
'First Cow,' directed by Kelly Reichardt
Release Date: March 6
Starring: John Marago, Orion Lee, Rene Auberjonois

What's it about: Set in the early nineteenth-century, loner but skilled cook (Margaro) finds himself in the West with a bunch of fur trappers. Soon, he becomes friends with a Chinese immigrant (Lee), and the two set off to make a life for themselves with a nearby prized milking cow.
'Lost Girls,' directed by Liz Garbus
Release Date: March 13
Starring: Amy Ryan, Thomasin McKenzie, Lola Kirke, Gabriel Byrne
What's it about: Mari Gilbert's daughter disappears mysteriously one night. A self-investigation brings Mari to a gated Long Island community that seems abandoned. When the police get there, they find over a dozen murdered sex workers, but not Gilbert's daughter—and then things start to get really interesting.
'Never Rarely Sometimes Always,' directed by Eliza Hittman
Release Date: March 13
Starring: Ryan Eggold, Théodore Pellerin, Talia Ryder
What's it about? Two teenage girls from a small town in Pennsylvania set out to New York City for medical help after one of them finds out she's pregnant..
'Mulan,' directed by Niki Caro
Release Date: March 27
Starring: Yifei Liu, Donnie Yen, Jet Li, Ling Gong
What's it about: The live-action remake of Disney's 1998 film of the same name follows a young girl who disguises herself as a man to take her father's place in the army.
'Saint Maud,' directed by Rose Glass
Release Date: March 27
Starring: Morfydd Clark, Jennifer Ehle, and Marcus Hutton
What it's about: A young girl who is a hospice nurse because obsessed with saving the soul of her patient, and will stop at nothing to do so. Glass' debut as a director and writer is sure to be a terrifying one.
'Promising Young Woman,' directed by Emerald Fennell
Release Date: April 17
Starring: Carey Mulligan, Bo Burnham, Alison Brie, Laverne Cox and Adam Brody
What it's about: Cassie (Mulligan) had a promising future until an incident in medical school that made her drop out. Now, at night, she preys on men who aren't exactly nice guys. When the opportunity comes for her to get revenge on those who have wronged her in the past, nothing (and no one) can stop her.
'Black Widow,' directed by Cate Shortland
Release Date: May 1
Starring: Scarlett Johansson, Florence Pugh, Robert Downey Jr., Rachel Weisz, David Harbour
What's it about: Shortland's film will be the first film in the fourth phase of the Marvel Cinematic Universe. It'll follow Natasha Romanoff (Johansson) and the quest she goes on between the Avengers: Civil War and Avengers: Infinity War films.
'Covers,' directed by Nisha Ganatra
Release Date: May 8
Starring: Dakota Johnson, Tracee Ellis Ross, Ice Cube, Bill Pullman, June Diane Raphael
What's it about: It's a romance movie set in the Los Angeles music world. Ganatra also directed Late Night with Mindy Kaling and Emma Thompson, so be ready for a lot of laughs.
'Wonder Woman 1984,' directed by Patty Jenkins
Release Date: June 5
Starring: Gal Gadot, Pedro Pascal, Chris Pine, Kristen Wiig
What's it about: Not much is known about the sequel to the 2017 film Wonder Woman, except that it's set in the '80s, and this time our Diana (Gadot) is up against a new enemy, Cheetah (Wiig.)
'Candyman,' directed by Nia DaCosta
Release Date: June 12
Starring: Yahya Abdul-Mateen II, Tony Todd, Colman Domingo, Teyonah Parris
What's it about: It's a sequel to the 1992 film (opens in new tab) that probably gave you nightmares at some point. The film will still take place in Chicago, and the famous hooked-handed boogeyman continues to haunt the Cabrini-Green housing projects.
'Respect,' directed by Liesl Tommy
Release Date: August 14
Starring: Jennifer Hudson, Forest Whitataker, Marlon Wayans, Audra McDonald
What's it about: We'll see Jennifer Hudson play the legendary Aretha Franklin in a biopic about the singer's life. Franklin herself picked Hudson to play her before she died in 2018, so get ready for goosebumps.
'Happiest Season,' directed by Clea DuVall
Release Date: November 25
Starring: Kristen Stewart, Mackenzie Davis, Dan Levy, Alison Brie, Aubrey Plaza, Jake McDorman
What it's about: A woman (Stewart) shows up to her family's holiday party on a mission to propose to her girlfriend (Davis.) Unfortunately, she finds out her partner hasn't yet come out to her conservative parents.
'Misbehaviour,' directed by Philippa Lowthorpe
Release Date: TBD
Starring: Keira Knightley, Jessie Buckley, Gugu Mbatha-Raw, Suki Waterhouse
What's it about: Based on a true story, Misbehaviour will follow the story of a group of women who plan to take down the 1970 Miss World beauty competition in London. This U.K. film is getting a March 13 release in Britain, so we can only hope that we'll be able to see this story about some serious girl power around the same time.
'Marry Me,' by Kat Coiro
Release Date: TBD
Starring: Jennifer Lopez, Owen Wilson, Sarah Silverman, Maluma
What's it about: The movie is based on the graphic novel by Bobby Crosby (opens in new tab)that tells the story of a pop star (Lopez) who finds out just moments before walking down the aisle at Madison Square Garden that her fiancé (Maluma) is cheating on her. So, naturally, the only logical response is to pick a random man (Wilson) from the crowd and get hitched with him instead.
'The Glorias,' by Julie Taymor
Release Date: TBD
Starring: Julianne Moore, Alicia Vikander, Bette Midler, Janelle Monáe
What's it about: It's a biopic about feminist icon Gloria Steinem. The story will follow a similar narrative as her New York Times bestselling autobiography, My Life on the Road (opens in new tab).
'On The Rocks,' directed by Sofia Coppola
Release Date: TBD
Starring: Bill Murray, Jenny Slate, Rashida Jones, Marlon Wayans, Jessica Henwick
What's it about: The comedy-drama follows a young mom (Jones) who reconnects with her playboy dad (Murray) for an adventure through New York.
'The Half Of It,' by Alice Wu
Release Date: TBD
Starring: Leah Lewis, Daniel Diemer, Alexxis Lemire, Becky Ann Baker
What's it about: Netflix's next teen rom-com tells the story of a high school football star who hires Ellie, the shy, smart girl, to help him win over the girl he's crushing on. It seems simple right? Well, Ellie also has a crush on the same girl.
Bianca Rodriguez is the Fashion & Luxury Commerce Manager at Hearst Magazines, covering fashion, beauty, and more for Cosmopolitan, Elle, Esquire, Harper's BAZAAR, and Town & Country. She likes lounging about with a good book and thinks a closet without platform sneakers is a travesty.