The Clock Is Ticking—Buy These Wardrobe Basics on Amazon Prime Day While You Still Can
The quiet luxury look—but for a fraction of the price.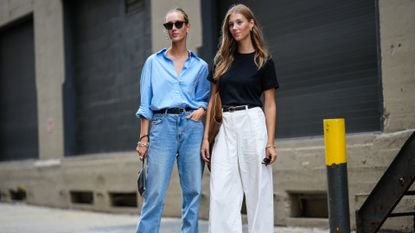 (Image credit: Edward Berthelot/Getty Images)
Fashion is going back to the basics. And after seasons of microtrend-this, microtrend-that, it's a breath of fresh air to focus solely on the essentials, like a trusty pair of blue jeans or minimal, no-fuss white sneakers. Tune out the TikTok chatter and forget about all of those "cores." Instead, focus on building your capsule wardrobe with hard-working staple pieces. And best of all: thanks to Amazon Prime Day, the best wardrobe basics are available to shop at just a fraction of their original prices.
The annual sale gives you a chance to stock up on timeless classics you'll always reach for, no matter what the trend cycle says: The best white T-shirts that feel like a second skin. Little black dresses to streamline getting dressed in the morning (nothing yields an effortlessly elegant effect quite like an LBD). Ballet flats that achieve the quiet luxury look without the "Oh, wow—those shoes cost more than one month's rent" price tag. In short, these basics are the backbone of any wardrobe—and Amazon's yearly sale is the opportune chance to fill in any gaps you may have in your collection.
Keep scrolling to find more information about Amazon Prime Day and a curated list of the best wardrobe basics the sale offers, broken down into easy-to-shop categories.
When Does Amazon Prime Day End?
The sale ends on July 12 at 11:59 p.m. PDT. The good news, though is that some deals will likely remain in effect after the sale's official end time. However, if a products falls under Amazon's Lightning Deals category, those are short-term discounts are limited and will likely end before the official wrap date.
White T-Shirts
Layering Tanks
Button-Down Shirts
Black Dresses