Everything You Need to Know About Meghan Markle's Wedding Dress
British designer Clare Waight Keller of Givenchy created it.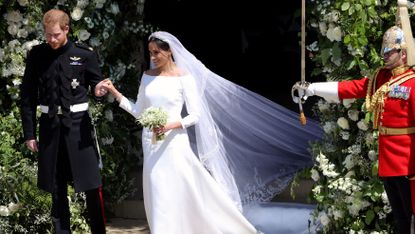 (Image credit: Getty Images)
Update 5/19: Today, Meghan Markle finally said "I will" to Prince Harry at St George's Chapel inside the grounds of Windsor Castle. The bride arrived to the church in a 1950s Rolls Royce and stepped out in a gorgeous, boatneck wedding dress. British designer Clare Waight Keller created the (soon-to-be iconic) Givenchy gown as well as Meghan's ethereal veil. The headpiece featured an embroidered flower from every commonwealth county and was held in place by The Queen Mary Tiara.
RELATED STORIES
Meanwhile, Prince Harry wore his uniform (and beard!) with permission from the Queen. Both their wedding rings were made by Cleave and Company. Meghan's ring was fashioned from a piece of Welsh gold, which was gifted to her by the Queen. The Duke and Duchess of Sussex could not look any happier than they did on May 19. (The proof is in the pictures, below.)
Original post 5/10: If you can't wait to see the dress Meghan Markle will say "I do" in, you're about to be even more excited—Kensington Palace has confirmed that Meghan will be wearing not one, but two dresses on her royal wedding day.

According to Daily Mail royal reporter Rebecca English, we'll get a look at Meghan's second dress briefly before the newlyweds head to the evening reception hosted by Prince Charles. "We will also see her evening grown when she leaves Windsor at 7 p.m. for Frogmore," she tweeted.
We will catch a first glimpse of Meghan's dress as she approaches the chapel in a car with her mother. Full view as she gets out. We will also see her evening grown when she leaves Windsor at 7pm for Frogmore. #royalweddingMay 4, 2018
See more
So, what about her main gown? For starters, Meghan reportedly cried when she first saw it. And tbh, we probably will, too. Fans gathered at Windsor and watching from home will get a first glimpse of the dress as Meghan approaches Windsor Castle with her mother in a car, bridesmaids and page boys in tow. After the ceremony, the couple will proceed to the royal procession where we'll get a better view and officially see Harry and Meghan as a married couple.
Since Kensington Palace plans to keep the dress details and designer top secret until Meghan exits the car, MarieClaire.com's exclusive royal wedding expert and bridal designer Caroline Castigliano gave us some insight as to what we might see her wearing on May 19. Castigliano says it's likely Meghan has chosen something a little less traditional than her future sister-in-law did, though this doesn't come as a surprise. Still, the Queen has to give her gown the final approval, just like she did for Meghan and Harry's engagement.
"I don't think her wedding dress will be as traditional as Kate's Alexander McQueen, with its high neckline, lace sleeves, and the sort of princess-shaped skirt," Castigliano says. "I think she'll wear a figure-hugging lace dress that will have a very classic look. She'll have a very strong nod to the royal family of her appreciation and her respect for them."
"Everything will be covered, so there would be absolutely no cleavage. She'd definitely have her shoulders and her arms covered with a sleeve. These things are expected. I'm sure her dress will be quite classic."
Castigliano sketched a beautiful design of what we might expect to see Meghan walk down the aisle in on May 19. Of course, it's stunning—and we can only hope Meghan's dress will look something like this.
As for the designer? Castigliano definitely thinks Meghan will go with a British one, though the second reception dress could be a total surprise. Rumors have recently surfaced that Meghan's gown will be designed by Ralph & Russo, the British brand she wore in her engagement portraits. Royal experts also think Erdem is a top contender due to a sudden change in internal staffing.
"I believe she will certainly wear a British designer for the wedding dress," Castigliano says. "For the evening party, I'm sure she'll change into something that's much more her personal style. For that, I think it would be really nice if she wore an American designer."
Castigliano revealed that the strict rules Meghan has to follow for her ceremony gown likely won't apply to her dress for the evening reception. This means we could see Meghan in a completely different look than ever before.
"I think she'll wear something quite slinky and sparkly—perhaps with little shoestring straps and a very low back, showing her figure," says Castigliano. "I think it'll be a really shimmering, beautiful evening dress that's quite sensual in its style."
Follow along here as we report on the royal wedding in real-time—from the dress to the tiara to Harry and Meghan's most adorable moments.
The Ultimate Meghan Markle Shopping Guide