Easy Layers for Spring Days
How do you dress for work when it's 30 in the morning and 60 in the afternoon? Layers, says Catherine Hageman.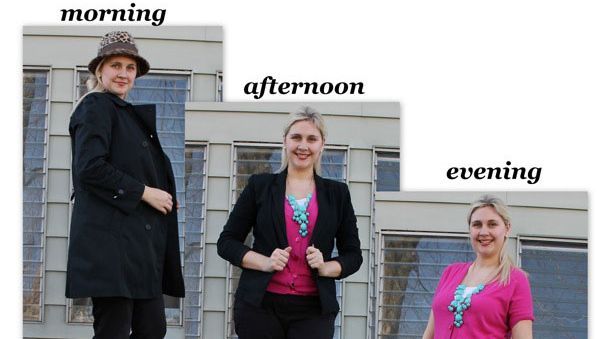 (Image credit: Archives)
It's finally getting warmer, but picking out an outfit is even more difficult when the weather goes from winter to spring in a matter of hours. As I leave for work in the morning, it's barely above freezing. By the time I get home, it's in the 60s.
I'm not complaining — spring is my favorite season. But, how am I supposed to pick out a comfortable outfit when the temperature changes by 30 degrees over the course of the day?
It all comes down to the layers — and perhaps toughing it out a little in the morning.
When it's still cool, I wear a light trench coat to work, and throw on a hat to add a little flair. Under the trench, I'll add two layers. Invest in dressier, short-sleeve shirts that look nice under blazers or cardis, but can stand alone as well. As the day gets warmer, you can shed the top layer and remain office-appropriate. A long-sleeve swing cardigan in a light fabric is another option. I love wrapping myself in these when it's still a little chilly.
Skirts worn with boots — but without tights — keep me toasty during cool, spring mornings. One of my other favorite wardrobe essentials, capris, cover most of my legs, but aren't too hot once the temperature warms up in the afternoon. I might be a little cold in these walking into work, but I'd rather cope with a little discomfort in the morning than be hot later.
I can't wait until a short-sleeve shirt and a skirt are all I need to wear to work. But until then, I'm making the most of my wardrobe and relying on layers to get me through the day.
Catherine Hageman dispatches fashionista tendencies fit for a corporate career on Small Town, Big Wardrobe.