65 Pixie Cuts for Every Kind of Hair Texture
Go short or go home (but don't actually leave—we love you).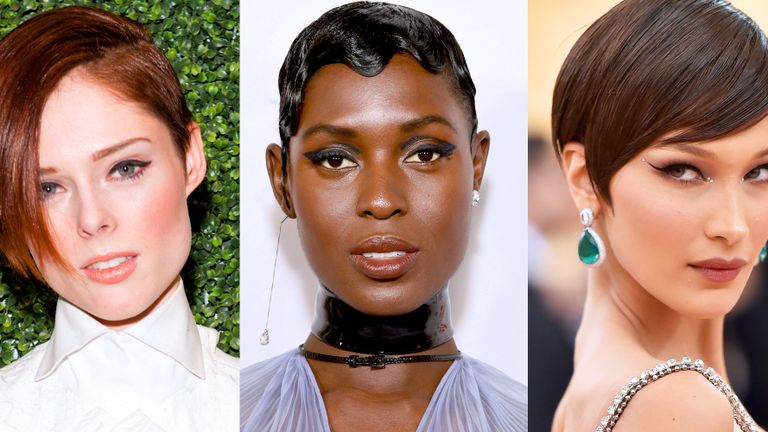 (Image credit: Getty Images)
By Maya Allen , Chloe Metzger , Chelsea Hall published
Listen, we understand that a pixie cut can seem like a terrifying style to try, but we feel the need to remind you that not only will you automatically look like a badass baller, but you'll also be in the company of 60-plus celebrities who have already taken a chance on a pair of scissors. Trust us, rocking a fresh new pixie cut is the best way to spice up an ordinary 'do for 2020. From an icy white short crop to a sleek and molded pixie, we're here to provide you with the most mesmerizing cuts of all time. Prepare to scroll, stop, screenshot, and save these stunning styles for your next salon visit. P.S. We won't be offended if you pause mid-way to call your stylist.
1/65
Bella Hadid's Ear-Length Pixie
Even though this temporary sleek style from the Met Gala did not last long, it goes without saying the supermodel looks unbelievable in an elegant pixie.
2/65
Kota Eberhardt
Eberhardt's snow-white shade steals the show. Not much styling is even needed when you have a head-turning hair color like this.
3/65
Jodie Turner-Smith's S-Waves
This is a nod to old Hollywood glamour effortlessly worn on Turner-Smith. This style is serving vintage vibes, and I'm here for it.
4/65
Charlize Theron's Polished Pixie
Theron has managed to entirely reinvent her look with a hair transformation. The sleek simplicity of her ice-y blonde pixie makes this style look timeless.
5/65
Eliza Cummings' Side-Swept Style
Supermodel Cummings' jet black hair is a winter mood. Add a shaggy cut for even more cool points.
6/65
Erin Richards' Grown-Out Pixie
Who says your pixie has to stop at the nape of your neck? Absolutely no one, as stunningly shown on Richards. Her salt and pepper streaks, curtain bangs, and flipped ends is a killer combination.
7/65
Maggie Grace's Cool-Girl Cut
There's no other way to describe Grace's long pixie than cooler than cool. I'm personally very into this side-swept style, y'all.
8/65
Cardi B.'s Swooped Pixie
When Cardi rocked the hell out of this pixie at the VMAs, everyone knew it was a wig, but we were convinced the rapper needed to take the plunge IRL.
9/65
Amandla Stenberg's Tight Coils
Dress up your pixie with finger coils like Stenberg and add a healthy amount of pomade for a long-lasting hold. Disclaimer: The patience this style requires is worth it.
10/65
Jena Malone's Feathery Pixie
Malone's voluminous layers add depth to her choppy cut. You have freedom to cut and layer as you please—a "perfect" pixie does not exist.
11/65
Kehlani's Glossy Texture
You can probably spot singer Kehlani's lustrous shine from a mile away. Rake a small dollop of Oribe Gold Lust Oil ($38) through your pixie with a fine-tooth comb to achieve the same shine.
12/65
Kristen Wiig's Flipped Bangs
Play up your pixie with swooped bangs like Wiig. But take things a step further by adding a softly flipped bang for extra flair.
13/65
Meagan Good's Curly Pixie
Good added feminity to this close cut with romantic, forward-facing curls, which is a tried-and-true way to pizazz a pixie.
14/65
Coco Rocha's Shaggy Bang
Canadian supermodel Rocha kept her sleek side part interesting with an exaggerated bang. Case in point: choose a side and have fun with it.
15/65
Gabrielle Union's Choppy, Blunt Cut
At the 2019 Vanity Fair Oscars Party, Gabrielle Union showed off her shortest style yet. Pairing your pixie with a deep side part will add structure—especially with choppy layers.
16/65
Teyana Taylor's Curled Pixie
For just one second, try not to stare at Teyana Taylor's unreal abs and look at her dope pixie. This is giving me '90s vibes in the best way possible. Mini barrel curls wherever you see fit gives cuts such character and flair.
17/65
Jada Pinkett Smith's Slicked-Down Pixie
My favorite hot mom, Jada Pinkett Smith, in this slicked-down, highlighted pixie proves less is more.
18/65
Kerry Washington's Voluminous Cut
A grown-out pixie is always a good idea. To make the shape of your pixie super-flattering, longer layers and side-swept bangs is a no-brainer. It adds so much sass to Washington's fun style.
19/65
Jourdan Dunn's Short, Choppy Layers
When it comes to pixies, layers, layers, and more layers are your friend. Supermodel Jourdan Dunn's simple style is taken up several notches because of her choppy layers.
20/65
Ruby Rose's Streaky Pixie
Who says you have to choose between a brunette or blonde pixie when you can do both? Ruby Rose shows the magic that happens when the two colors collide.
21/65
Viola Davis' Classic Cut
A timeless pixie cut, as shown by Viola Davis, will never not look amazing. A subtle change of color with low-key highlights make the style your own.
22/65
Pink's Platinum Short-Hawk
Interested in a buzzcut but don't want to go all the way? Resident hair badass, Pink, showcases the beauty of shaved sides. Try a tapered cut paired with major volume in the middle.
23/65
Zendaya's Blonde, Wispy Pixie
Zendaya, one of my favorite hair chameleons who never plays fair with her fabulous hairstyles, shows how color and cuts just go together. Her sandy blonde streaks and wispy bends showcase how much fun you can have—even with less hair!
24/65
Halle Berry's Sky-High Spikes
Yes, your hair can look damn good sticking straight up—thank you, Halle Berry, for this photogenic proof. Berry, the queen who has been rocking iconic pixie cuts before pixie cuts were even a thing (don't argue me on this one), looks so cool with this spikey style. If edgey looks don't intimidate you, show this look to your stylist.
25/65
Anne Hathaway's Side-Swept Bangs
Heavy, side-swept bangs will add an element of dimension to your pixie cut. Take a texture tip from Anne Hathaway and layer your bangs for a fuller look.
26/65
Ginnifer Goodwin's Glossy, Sleek Style
An inky, jet-black shade will give your cut a moody, mysterious, and effortlessly cool vibe. The contrast of Ginnifer Goodwin's dark and glossy strands coupled with bold brows to match against her olive skin tone is so gorgeous.
27/65
Kate Hudson's Piece-y Pixie
We mean, just look at the individual twists of hair, like Hudson just casually raked her fingers through her pixie and it stayed like that.
28/65
Katy Perry's Choppy Pixie
Long in the front, super-short in the back, faded on the sides, Perry's pixie is a choppy, feathered dream. To define the sections, rub a dab of pomade between your fingers, then rake and twirl random pieces of hair.
29/65
LeToya Luckett's Side-Banged Pixie
Who says you can't have it all? At least, in the world of hair. Because Luckett's long, side-parted bangs take the usual severity out of pixie cuts and adds an element of softness to her face. Slick down the sides with a mix of styling cream and gel, and let your front bangs hang freely.
30/65
Cara Delevingne's Ribbon Band
When you're out of ideas for styling your super-short pixie, remember your childhood friend, the ribbon headband, is still nearby to help you break up your hair. Slide a thicker band over a textured cut and tie it in a bow at the base of your neck.
31/65
Scarlett Johansson's Long-on-Top Pixie
Whoever said mullet styles are universally unflattering have never seen a great pixie cut with a *reverse mullet* (longer on top, super short in the back). Johansson's is a much more masculine take on the pixie that truly looks badass on her frame.
32/65
Zoë Kravitz's Bleached Brilliance
Zoë Kravitz's bleached blonde pixie cut alone earned her a spot on many Best Beauty lists at this year's Met Gala, which was the perfect Audrey Hepburn-esque addition to her elegant look.
33/65
Isabel Lucas' Slicked Back Sides
One "can't leave home without it" product for pixie cuts is a pliable wax that will keep little wispy cowlicks at bay. If you want to nip the problem right in the bud, do as Isabel Lucas does and apply a gel or wax all over strands for a "wet hair" look where no hair is out of place (especially when you're between trims).
34/65
Miley Cyrus' Frosted Tips
A major perk or downfall of bleaching your hair when you have super short strands is that you'll likely end up with Guy Fieri-esque frosted tips when your roots grow out (refer back to Kristen Stewart's pixie cut for further evidence). But if you've got the confidence (and great hair) of Miley Cyrus, you can pull off the look without batting an eyelash.
35/65
Katy Perry's Short on the Sides, Long on Top Style
Major snaps to Perry's 2017 hair transformation. Instead of going for the typical sweet and chic cut, she took a major style leap by shaving the sides, keeping the roots dark, and wearing the ends long and platinum blonde.
36/65
Janelle Monáe's Hair Pins
One of our 2017 class of Fresh Faces brought her A-game to our celebration in L.A. by adorning her pixie with adorable bird pins.
37/65
Sarah Paulson's Brushed-Back Look
Trust Sarah Paulson to pull off even the edgiest of short cuts. Try sweeping your hair straight back instead of pinning it off to the sides when it grows out for this look, and add some lowlights like hers to keep things interesting up top.
38/65
Ruth Negga's Close-Cut Curls
As with Audrey Hepburn before her, when you've got naturally curly hair your pixie cut is bound to be blessed with even more texture (read: less hassling with thinning out your bangs and layering your short strands).
39/65
Charlize Theron's Zhuzhed-Up Glam
When in doubt about how to style your pixie differently, slick a styling paste in your hair and lift at the roots while blow drying with a round brush for hair with height.
40/65
Taís Araújo's Angled Bangs
The signature angled pixie bangs look especially adorable when they're piece-y and separated like Brazilian actress Taís Araújo's. Ask your stylist to thin out your bangs if you're dealing with thicker hair to achieve the same effect.
41/65
Jaime Pressly's Eye-Skimming Bangs
It's not every day that you see a pixie cut paired with blunt and even eye-skimming bangs, but Jaime Pressly's making the case for something more structured than the wispy, windswept styles of the past.
42/65
Angela Bassett's Spiky Texture
Angela Bassett's feathery baby hairs keep this punk-style pixie from skewing too masculine.
43/65
Kris Jenner's Rocker Style
Kris Jenner's not a regular mom, she's a *cool* mom, so it makes sense that she'd opt for this rocker-chic DIY style cut (that looks purposefully uneven) instead of a conservative matronly style.
44/65
Evan Rachel Wood's Retro Flip
Evan Rachel Wood looks like a modern-day flapper with this curled up and flipped back style (pro tip: it's a sophisticated way to keep long bangs in check when you're growing them out).
45/65
Anne Hathaway's Swept-Back Style
A little gel in your bangs will help keep hair out of your face (for a powerful look that's "all eyes on me").
46/65
Pixie Geldorf's Cotton Candy Pink Hue
In which Geldorf exemplifies a "go big or go home" mentality with an edgy cut dyed a very of-the-moment shade of pastel pink.
47/65
Emma Watson's Baby Bird Bangs
R.I.P. Watson's gorgeous pixie cut, featuring these adorable piece-y, super short strands.
48/65
Sami Gayle's DIY Cut
Blue Bloods star Sami Gayle goes the longer route with eye-sweeping, uneven bangs that are a dreamy style to flag for at-home bang trimming inspiration.
49/65
Michelle Williams' Layers
Michelle Williams' oh-so-perfect cut is how you grow out your pixie right: It's colored, swept in front of her eyes, and expertly layered.
50/65
Keira Knightley's Choppy Ends
The more piecey and the more textured the cut, the better to balance out delicate features like Knightley's.
51/65
Ginnifer Goodwin's Glow
The best part about this style? It keeps all of the attention on your face, as seen here with Goodwin's glow-y beauty look.
52/65
53/65
Nicole Richie's Flicked Back Hair
Slick paste through your bangs to style them in an edgy, architectural style.
54/65
Jennifer Lawrence's Long Fringe
Big earrings + long, swept back bangs = styling perfection.
55/65
Agyness Deyn's Quasi Bowl Cut
A bleached, quasi bowl cut pixie is a tough one to master, but Deyn's working it out with ease.
56/65
Jennifer Hudson's Edgy Fringe
To achieve this rocker-chic cut, blow dry your bangs in front of your face to add some dimension, instead of slicking them back from your forehead.
57/65
Shailene Woodley's Side Bangs
Pro tip: Keep long pieces in the front to style into side bangs and up-dos.
58/65
Halle Berry's Wispy Strands and Short Sides
For a textured style like Berry's, it pays to have curly hair. Keep the bangs long and the sides shaved to mimic this super edgy look.
59/65
Lily Collins' Grown-Out Bangs
When you're growing out your bangs, round-brush in the opposite direction of your natural natural hair progression to achieve Collins' voluminous swoop.
60/65
Robin Wright's Multi-Tonal Strands
The lady with the best short hair on television, Robin Wright knows the power of a cut that doesn't require too much time to style in the morning.
61/65
Julianne Hough's Not-a-Hair-Out-of-Place Pixie
Some magic has taken place here to keep Hough's hair without any stray hairs in sight, and we're going to have to chalk it up to some straight iron enchantment.
62/65
Kate Mara's Assymmetry
Mara mixes it up with one side of her hair waved and the other straight and slicked back behind her ear. Genius.
63/65
Natalie Portman's Neat, Chic Style
Close-cut and not a strand out of place.
64/65
Carey Mulligan's Crimped Waves
The cut that launched a thousand copycats (and this infamous scene from Girls) is immaculately crimped here in a '20s style that's fitting for Miss Daisy Buchanan.
65/65
Winona Ryder Close-Cut Pixie
Pour one out for Winona Ryder's style choices in the '90s. Arguably a "Rachel" in her own right, Winona Ryder's pixie cut was another must-have cool girl style of her era. #WinonaForever, indeed.